New patient tower at Henry Ford Macomb Hospital to be named after automotive group owners
March 23, 2023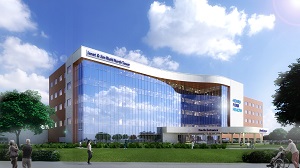 CLINTON TOWNSHIP, MICH.--
The brand-new patient tower on the Henry Ford Macomb Hospital campus will be named for Janet and Jim Riehl of Friendly Automotive Group, Henry Ford Health announced Thursday. The couple is providing generous financial support for the hospital's campus expansion project.
Hospital officials expect to welcome the first patients to the Janet and Jim Riehl North Tower in May. Construction is nearly complete on the five-story 225,000 square foot facility. The tower—which connects to the existing hospital—features 160 state-of-the-art private patient rooms.
"We're excited about the patient tower and how it will improve the hospital stay for patients here in the county who deserve world-class healthcare," said Janet Riehl. "We are so grateful that we're at a point in our lives when we can do this. It's very gratifying to be able to give back to the community that means so much to both of us."
The Riehls are lifelong Macomb County residents with a passion for giving back to their community. They're known for their long history of hosting philanthropic events in their dealership showrooms.
"Our new patient tower--along with our plans for converting our existing semi-private patient rooms into fully private adaptable care rooms--is transforming the landscape of our campus. These improvements represent Henry Ford's long-term commitment to providing our patients and their families with comfort, privacy and safety in a healing environment that's responsive to their needs," said Barbara Rossmann, President and CEO of Henry Ford Macomb Hospital.
The hospital expansion project is the largest single healthcare investment in Macomb County history. It also includes a redesigned north entrance and parking and roadway improvements.
"The Riehls' incredible gift helps elevate the patient experience and bolster Henry Ford Macomb Hospital's ability to meet the healthcare needs of the community," said Mary Jane Vogt, Executive Vice President and Chief Development Officer at Henry Ford Health. "We are profoundly grateful for their support. The Janet and Jim Riehl North Tower is a symbol of sustained commitment to patient well-being and quality care that will continue to flourish in years to come."
A grand opening celebration and fundraiser for the new tower is planned for Friday, May 12. To learn more about the project visit henryford.com/MacombTransformation.
# # #
MEDIA CONTACT: Michelle Fusco / 586.713-4051 / mfusco1@hfhs.org
About Henry Ford Health
Serving communities across Michigan and beyond, Henry Ford Health is committed to partnering with patients and members along their entire health journey. Henry Ford Health provides a full continuum of services – from primary and preventative care, to complex and specialty care, health insurance, a full suite of home health offerings, virtual care, pharmacy, eye care and other healthcare retail.
It is one of the nation's leading academic medical centers, recognized for clinical excellence in cancer care, cardiology and cardiovascular surgery, neurology and neurosurgery, orthopedics and sports medicine, and multi-organ transplants. Consistently ranked among the top five NIH-funded institutions in Michigan, Henry Ford Health engages in more than 2,000 research projects annually. Equally committed to educating the next generation of health professionals, Henry Ford Health trains more than 4,000 medical students, residents and fellows every year across 50+ accredited programs.
With more than 33,000 valued team members, Henry Ford Health is also among Michigan's largest and most diverse employers, including nearly 6,000 physicians and researchers from the Henry Ford Medical Group, Henry Ford Physician Network and Jackson Health Network.
The health system is led by President and CEO Robert G. Riney and serves a growing number of customers across 250+ locations throughout Michigan, including five acute care hospitals, two destination facilities for complex cancer and orthopedics and sports medicine care, three behavioral health facilities, primary care and urgent care centers.