Henry Ford Health Appoints New Orthopedics Chair and Medical Director
April 10, 2023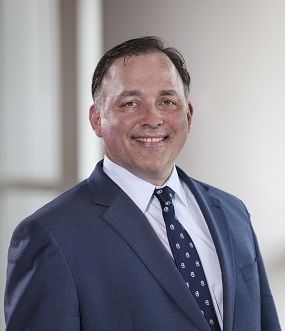 DETROIT (April 10, 2023) – Jonathan Braman, M.D., an Orthopedic surgeon specializing in shoulder surgery, was named new department Chair and Medical Director of the Orthopedic Service Line at Henry Ford Health, effective April 17.
"As our new chair and medical director of Orthopedics, Dr. Braman will build on our great legacy in Orthopedics services and further strengthen our commitment and ability to deliver excellent patient care, to advance research and clinical training," said Adnan Munkarah, M.D., President of Care Delivery System & Chief Clinical Officer.
As chair and service line medical director, Dr. Braman will oversee all administrative, clinical, research and academic activities for the service line. Henry Ford Health's Orthopedics service line has more than 20 locations throughout the tri-county area.
"Following a nation-wide search, we are excited to welcome Dr. Braman to lead our Orthopedic service line," said Steven Kalkanis, M.D., Executive Vice President and CEO of Henry Ford Hospital and CEO of the Henry Ford Medical Group. "We look forward to having his leadership and expertise improve on Henry Ford's national reputation as a destination for excellent orthopedic patient care, academic research and education."
In addition, he will develop and implement strategies to continue the advancement of orthopedic surgery and clinical services at Henry Ford to be among the top in the nation while continuing to move the health system forward in the successful transformation of health care from volume-based to value-based care delivery across all markets.
"For years, I have known and respected the team at the Henry Ford Department of Orthopedics," said Dr. Braman. "I look forward to joining this incredible organization and bringing my talents to the health system and its educational mission."
Dr. Braman joined Henry Ford from the University of Minnesota Department of Orthopedic Surgery, where he was Chief of Shoulder Surgery, Professor of Orthopedic Surgery, Vice Chair of Faculty Development, and Director of Orthopedic Research at the University of Minnesota Medical Center.
He also served as Residency Program Director and practiced in the HealthPartners organization at TRIA Orthopedic Center at the University of Minnesota Medical Center and at the Minneapolis Veterans Administration Medical Center.
Dr. Braman received his bachelor's degree in English from Princeton University, medical degree from the University of Washington School of Medicine, and his master's in Healthcare Administration from the University of Minnesota.
Following graduation, he completed an internship in general surgery and orthopedic surgery residency at the University of Washington. He also served as a Clinical Fellow in Shoulder Surgery at the Leni and Peter May Department of Orthopedic Surgery at Mt. Sinai Hospital in New York, NY.
An award-winning physician and researcher who is involved in countless professional organizations, Dr. Braman brings a wealth of clinical knowledge and research of Orthopedics and Sports Medicine. He has written many articles and editorials, delivered dozens of presentations and lectures throughout the country and has been involved in a number of clinical trials.
Visit henryford.com/services/orthopedics to learn more about Henry Ford Health's Orthopedic services.
###
MEDIA ONLY MAY CONTACT: Sal Giacona / sgiacon1@hfhs.org / 313-421-9108
ABOUT HENRY FORD HEALTH
Serving communities across Michigan and beyond, Henry Ford Health is committed to partnering with patients and members along their entire health journey. Henry Ford Health provides a full continuum of services – from primary and preventative care, to complex and specialty care, health insurance, a full suite of home health offerings, virtual care, pharmacy, eye care and other healthcare retail.
It is one of the nation's leading academic medical centers, recognized for clinical excellence in cancer care, cardiology and cardiovascular surgery, neurology and neurosurgery, orthopedics and sports medicine, and multi-organ transplants. Consistently ranked among the top five NIH-funded institutions in Michigan, Henry Ford Health engages in more than 2,000 research projects annually. Equally committed to educating the next generation of health professionals, Henry Ford Health trains more than 4,000 medical students, residents and fellows every year across 50+ accredited programs.
With more than 33,000 valued team members, Henry Ford Health is also among Michigan's largest and most diverse employers, including nearly 6,000 physicians and researchers from the Henry Ford Medical Group, Henry Ford Physician Network and Jackson Health Network.
The health system is led by President and CEO Robert G. Riney and serves a growing number of customers across 250+ locations throughout Michigan including five acute care hospitals, two destination facilities for complex cancer and orthopedics and sports medicine care, three behavioral health facilities, primary care and urgent care centers.