Henry Ford Health Appoints New Ophthalmology Chair
May 18, 2023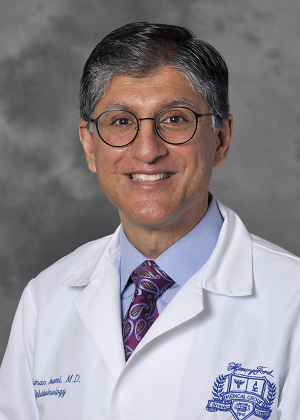 DETROIT (May 18, 2023) – Nauman R. Imami, M.D., M.H.S.A., a longtime and award-winning Henry Ford Health physician, researcher and leader, has been named the system's new Chair of the Ophthalmology Department, effective May 7, 2023. Most recently, Dr. Imami had been serving as Physician-in-Charge of Ophthalmology - Livonia, Chief of Glaucoma Service, and Vice-Chair of Network Operations at Henry Ford Health.
"We're excited to welcome someone so celebrated, respected and accomplished as our new Chair of Ophthalmology," said Adnan Munkarah, M.D., Henry Ford Health's President of Care Delivery System & Chief Clinical Officer. "Dr. Imami is known for his dedication to his practice, and we know his leadership will bolster our innovative Ophthalmologic team, as well as our commitment to comprehensive and coordinated patient care, research and instruction."
As chair, Dr. Imami will create and execute plans to expand ophthalmic research and training, and will oversee organizational, clinical and educational matters for the department. Dr. Imami takes over from Paul A. Edwards, M.D., F.A.C.S, who spent the last 22 years leading the department as chair. Dr. Edwards will continue to see patients and remains a vital member of the medical group.
"As we humbly thank Dr. Edwards for his more than two decades of dedication to this role, we are thrilled to bring in Dr. Imami to guide our Ophthalmology department," said Steven Kalkanis, M.D., Henry Ford Health Executive Vice President, CEO of Henry Ford Hospital and CEO of the Henry Ford Medical Group. "Dr. Imami's proven leadership and experience will build upon Henry Ford's exemplary status as a prominent provider in comprehensive ophthalmic and surgical care."
Henry Ford's Department of Ophthalmology, one of the largest ophthalmology practices in the United States, already treats more than 55,000 patients per year at 12 locations throughout southeast Michigan.
"This is a transformational time for our health system, and I hope to position us as the leading provider of the highest quality eye care in Michigan," said Dr. Imami. "We have reached new levels with teaching and research, and my goal is to continue to be recognized as a top academic ophthalmology department in the Midwest and beyond. I look forward to serving Henry Ford as we continue to flourish."
A member of the Department of Ophthalmology since 1998, Dr. Imami received his bachelor's degree from Duke University and his medical degree from the University of Florida. He completed his ophthalmology residency at Duke University and his glaucoma fellowship at the Bascom Palmer Eye Institute. He received his Master's in Health Services Administration from the University of Michigan.
Leading the Glaucoma Division since 2004, he served as Residency Program Director and launched Henry Ford's Glaucoma Fellowship -- the first Association of University Professors of Ophthalmology Fellowship Compliance Committee recognized in the department. His research and enthusiasm revolve around improving clinical care and outcomes in the management of glaucoma. He has been the Principal Investigator at Henry Ford for numerous clinical trials and is vice-chair of the medical group's revenue council, bringing the latest coding and compliance rules to his current role.
A multiple award-winning senior staff physician at Henry Ford for nearly 25 years, impactful researcher and Associate Professor of Ophthalmology at Wayne State University, Dr. Imami has served on dozens of committees and his work is seen in countless publications. He is known for his strong clinical footprint, contemporary findings in Ophthalmology, and passion for patient care.
Visit henryford.com/services/eye to learn more about Henry Ford Health's Ophthalmology services.

###

FOR MEDIA INQUIRIES, contact: mediarelations@hfhs.org