CBO Process Kicks Off The Future of Health Project
September 25, 2023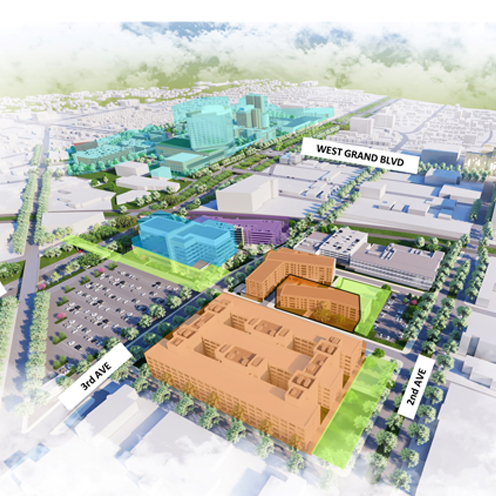 DETROIT – Henry Ford Health, Michigan State University, Tom Gores and the Detroit Pistons, and the City of Detroit today announced plans to begin an extensive Community Benefits Ordinance (CBO) process for a mission-driven community development and investment of $3 billion over the next decade. The project aims to transform Detroit's New Center neighborhood into a vibrant, walkable community with state-of-the-art health care, residential, commercial, retail and recreational components.

The development will be anchored by a major expansion of Henry Ford Hospital that features a brand new one-million-square-foot-plus facility and patient tower. It also includes a new, cutting-edge medical research facility for Henry Ford Health + Michigan State University Health Sciences, part of the two organizations' 30-year landmark partnership.

Transforming the section of New Center which currently houses the headquarters for both Henry Ford Health and the Detroit Pistons – the partners plan to create a destination to work, live and play that's infused with mixed-income living spaces, commercial/retail options, and green space, while bringing connectivity between Henry Ford's hospital footprint located north and south of West Grand Boulevard.
In summary, the project footprint will include:
New state-of-the-art Henry Ford Hospital tower and expanded emergency department
Cutting edge medical research facility
Two new residential/commercial/retail/mixed-use buildings
Renovation of One Ford Place to a new mixed-income residential/commercial/retail/mixed-use building
New 800-space parking structure
"I have always viewed the Pistons as a community asset," said Pistons owner Tom Gores. "When we moved downtown, we had an ambitious agenda for using our platform to bring people together to effect change. We've worked hard to deliver on that promise and more, and then continued seeking new ways to be impactful. This development presents a new opportunity to accelerate growth and contribute to the revitalization of the city. We're excited to work with our partners and the community we serve to transform our shared neighborhood."

"Detroit deserves a premier academic medical center and destination for the most advanced care, research and education," said Robert Riney, President and CEO of Henry Ford Health. "As an anchor institution that has been committed to building strong, healthy communities for more than a century, we know we can deliver on that promise – to double down on our commitment to being relentless advocates for those we serve. That includes not only charting a path to lead the healthcare of tomorrow, but also attracting the top health care professionals to our city, creating education and job opportunities, and removing barriers to wellness - particularly in our underserved populations."

"For more than a century, MSU has been working with communities in Detroit to improve health and support economic development while leading the nation in growth and development research, teaching and outreach," said MSU Interim President Teresa Woodruff. "The new Henry Ford Health + Michigan State University partnership and research facility supports our core values and fuels even more innovation and discovery that will directly benefit those in the region. Our goal is to set a new standard for how individuals and communities experience care across the state of Michigan and the nation."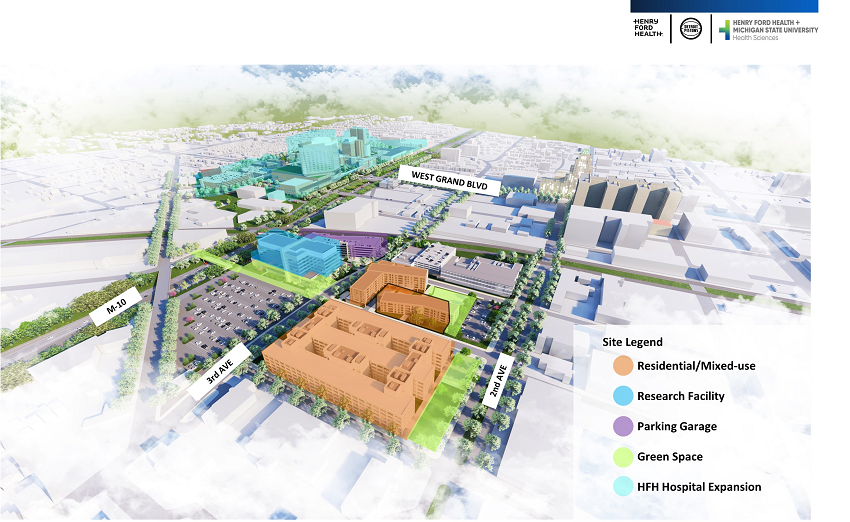 Community Benefits Process – How it works
Detroit is the only major city to have a community benefits ordinance that gives residents living in the area impacted by a development a say in the project and the ability to negotiate certain benefits. To date, 12 completed CBO processes have resulted in tens of millions of dollars in benefits to neighborhoods beyond the initial development investments.

The Detroit Pistons voluntarily committed to a CBO process as part of their 2017 move back to the city and the $100 million Henry Ford Detroit Pistons Performance Center project, executing and delivering on a 24-point agreement that included construction impact mitigation, construction workforce and contract participation, post-construction job creation efforts and support for the Detroit Economic Solutions Corporation, youth education and mentoring, along with refurbishment of basketball courts, free basketball camps and free tickets.

To begin the CBO process for this current project, the City of Detroit has mailed invitations to a series of community meetings with Henry Ford Health, Michigan State University and the Detroit Pistons to 4,693 addresses identified inside a three-quadrant census tract impact area.

The first two meetings will be held October 3 and October 10. These initial meetings will allow members of the surrounding community to learn more about the proposed development plans and to share their feedback and to select community representatives on the Neighborhood Advisory Council (NAC) that will negotiate the community benefits agreement.

Every community benefits NAC is made up of 9 members:
2 selected by residents living in the area
3 selected by City Council members (1 each by the councilperson representing the impacted district and two by at-large councilmembers)
4 selected by the Planning & Development Department

The City's community benefits ordinance requires a minimum of 7 meetings. Members of the NAC, who must live in the impacted area and be at least 18 years of age, negotiate various community benefits specific to the projects to address anticipated impacts, such as programs to help residents participate in economic opportunities created by the development. Once the NAC and developers agree on a series of benefits and timelines, the NAC votes to endorse the community benefits agreement. That agreement is forwarded to City Council for final approval.

"We are thrilled about 'The Future of Health in a Thriving New Center' development and what it will bring to the city in terms of new jobs, access to world-class medical research and healthcare, and affordable housing," said Antoine Bryant, City of Detroit Director of Planning and Development. "While the research and housing side of the development is the only part of the project that will be seeking incentives, the developers have made a commitment to have the community benefits span the entire project. That says a great deal about their commitment to a robust community engagement and benefits process."

Economic Benefits – New Jobs
The Future of Health development in its entirety will support approximately 25,000-plus jobs – which include an estimated 16,000 current jobs, 8,200 construction jobs and 700 new post-construction related full and part-time positions.

Analysis from real estate consulting firm RCLCO estimates a potential $8.2 billion total economic output from the development and an additional $340 million in total fiscal impact over 35 years when looking at the expansion of the local and state tax base through increased property values and job creation.

"I can't think of better partners than the Pistons, Henry Ford Health and Michigan State University to deliver this innovative project that will create new economic opportunities and jobs for Detroiters," said Tom Lutz, Executive Secretary-Treasurer of the Michigan Regional Council of Carpenters and Millwrights. "It is incredible to see the level of private investment that continues to flow into Detroit and the demand it drives for skilled trades workers. We are here, in the City, to make sure Detroit residents have access to the training they need to join the best workforce rebuilding our city and take full advantage of the jobs created by the Pistons/Henry Ford/MSU project."

This future development vision builds upon the successful construction of the Henry Ford Detroit Pistons Performance Center, which opened in 2019. The publicly accessible center provides a series of community benefits, including Henry Ford's state-of-the-art Center for Athletic Medicine and neighborhood retail amenities Planet Fitness and Plum Market.

Local leaders praised the impact 'The Future of Health in a Thriving New Center' will have in expanding entertainment and resources in the neighborhood while adding vibrancy to the gateway of Detroit's downtown.

"We are excited about Henry Ford, MSU and the Detroit Pistons coming together to transform New Center with this massive and exciting development," said Robin Terry, Chairwoman and CEO, Motown Museum. "Henry Ford and the Pistons have been great neighbors and great partners to the Museum, and as we continue our own reimaging of the Motown Museum campus, we know the culmination of these projects will have an amazing impact on the people of New Center, tourists and other visitors to this amazing new destination in our city."

"The new partnership between the Detroit Pistons, Henry Ford Health, and MSU will provide major investment and new opportunities for Detroit," said Pamela Turner, President and CEO of Vanguard Community Development Corporation. "This is an exciting time for Detroiters and our neighborhoods."

The partners have already executed a robust schedule of preliminary community engagement meetings to brief neighborhood leaders on the project and seek input from residents, block groups and business leaders to ensure that the overall vision for the new development vision reflects and supports evolving local priorities.

"We strongly believe in the importance of engaging our neighbors in a way that promotes collaboration and an exciting outcome for all of us," said Henry Ford Health FACHE Executive Vice President & Chief Executive Officer Care Delivery System Operations Denise Brooks-Williams, Detroit Pistons Vice President of Diversity, Equity and Inclusion Stefen Welch and MSU Director of Community Outreach & Engagement Arlynn Dailey in a joint statement. "Community conversations have been informative during our early planning and we look forward expanding those discussions as the CBO process moves forward."

For additional project information visit www.detroitmi/gov/futureofhealth.