Henry Ford-GoHealth Urgent Care Opens New Center in Taylor
September 5, 2023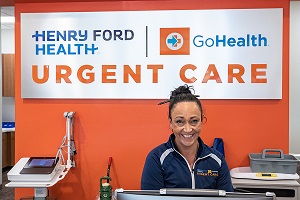 Taylor, Mich.-
Henry Ford-GoHealth Urgent Care opened a new center Downriver today at 23660 Eureka Road in Taylor. The new location provides the community with a more affordable option for safe and efficient urgent care outside the higher-cost setting of an emergency department.
"Convenient access to affordable, high-quality healthcare is critical for building strong families and communities in southeast Michigan," said Laurie Dietzel, Market Vice President, Henry Ford-GoHealth Urgent Care. "We are thrilled to open a center in Taylor that will expand access to care for Downriver residents and continue improving the health of Metro Detroit."
Henry Ford-GoHealth Urgent Care centers offer in-person and virtual treatment for non-life-threatening illnesses and injuries, on-site X-ray services, COVID-19 testing and flu vaccines. Healthcare providers can also prescribe and fill COVID-19 oral antiviral treatments if clinically indicated after evaluation.
The new center in Taylor, located in the Eureka Plaza shopping complex between Telegraph Rd. and Ranch Blvd., is the 15th Henry Ford-Go Health location to open in Metro Detroit.
"Every new location makes us more available to patients where and when they need us," said Dr. Jerome Finkel, Senior Vice President and Chief Primary Health Officer for Henry Ford Health. "In addition to offering the community access to high-quality urgent care services, we are also offering them access to Henry Ford's robust network of care."
Henry Ford-GoHealth Urgent Care centers are open 8 a.m. to 8 p.m. Monday through Friday and 9 a.m. to 5 p.m. Saturday and Sunday. Patients can be seen quickly and easily in person by walking in or going online to save a spot and pre-register. Virtual visits are also available for patients to access care from home.
Henry Ford-GoHealth centers are also open in Berkley, Bloomfield Hills, Bruce Township, Canton, Chesterfield, Clinton Township, Dearborn Heights, Fraser, Livonia, Southfield, Southgate and West Bloomfield. For details about all Henry Ford-GoHealth locations, visit gohealthuc.com/henry-ford.
###