This comforting Roasted Butternut Squash Soup recipe is low in fat and packed with fiber to keep you full longer and nutrients like potassium, vitamin C and vitamin B6, which are essential for bone health and strengthening your immune system. For added texture and flavor, we sprinkle each bowl with a simple topping of toasted panko breadcrumbs, Parmesan cheese and chives.
Roasted Butternut Squash Soup
(Downloadable/printable pdf version of this recipe)
Yield: 6 servings (1 cup each)
Ingredients:
8 cups (about 2 small) butternut squash, peeled, seeded and cut into chunks
2 Tablespoons canola oil, divided
1 cup diced onion
2 cloves garlic, minced
1 teaspoon rubbed sage
3 cups reduced-sodium chicken broth
2 Tablespoons sherry
2 teaspoons margarine
1/3 cup panko bread crumbs
1/4 cup grated Parmesan cheese
1 Tablespoon snipped chives
Directions:
Preheat oven to 375º F. Place squash chunks on a sheet pan with sides and drizzle with 1 Tablespoon oil; toss to coat. Roast squash in oven for 35 to 45 minutes, or until tender. Add 1 Tablespoon oil to a large stockpot and sauté onions, garlic, and sage over medium heat for 3 to 5 minutes. Add roasted squash and broth to stockpot and heat to a boil. Remove from heat and use an immersion blender to puree soup until smooth. (If you don't have an immersion blender, you can also carefully transfer soup to a food processor or blender in batches to puree.) Return soup to pot and stir in sherry.
To prepare soup topping, melt margarine in a small sauté pan. Add panko bread crumbs and toast until golden brown. Remove pan from heat and allow crumbs to cool for about 5 minutes. Stir in parmesan cheese and chives. Serve each bowl of soup with bread crumb and cheese topping.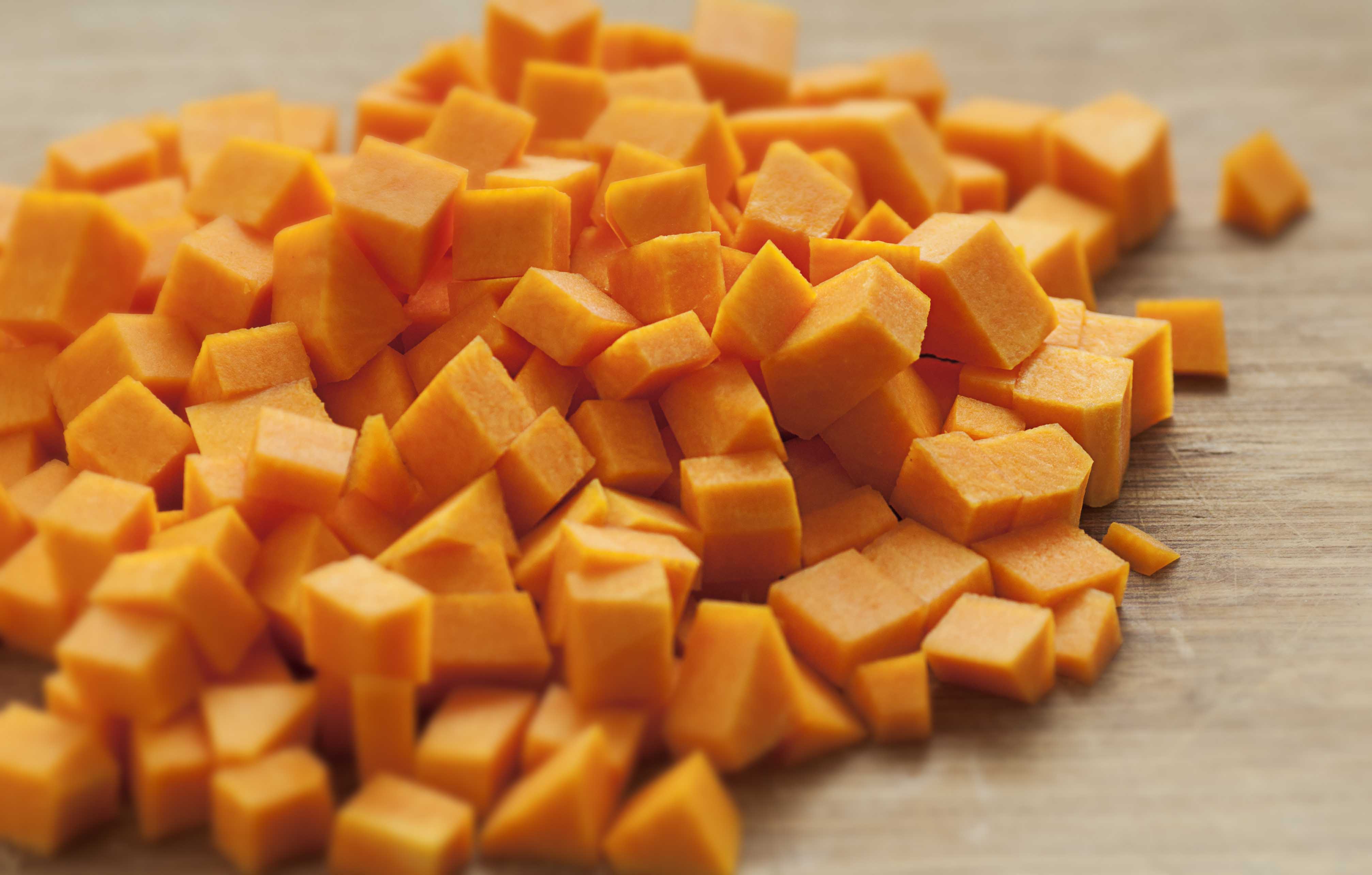 Cook's Note: Not sure how to dice butternut squash? Check out this handy how-to video for an easy method. Microwaving the squash for a couple of minutes before peeling it helps the skin come off a little easier. Just be sure to let it cool slightly before handling it because it may be hot.
NUTRITION INFORMATION PER SERVING: 173 Calories; 5 grams Fat; 1 gram Saturated Fat; 3 mg Cholesterol; 343 mg Sodium; 28 grams Carbohydrates; 4 grams Fiber; 4 grams Protein
---
Looking for more info and want to make an appointment with a registered dietitian? Call 1-855-434-5483 or email ContactUs@henryfordlivewell.com.