Henry Ford Health Department of Surgery High School Mentorship Program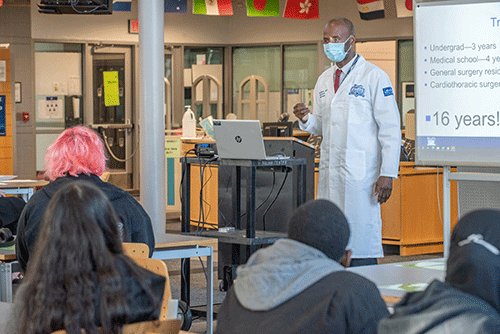 Open to any Detroit-area high school student interested in a career in medicine, or learning about other career paths.
The program will be conducted during the academic year. Students can also apply for a paid summer internship ($1,000) awarded to 10 selected students.
Participants will visit Henry Ford Hospital and participate in skills in the Surgical Simulation Suite on Saturday mornings throughout the academic year. They will be taught suturing, knot tying and simulation surgical skills. Many of these simulations are for minimally invasive procedures, and these skills should be easily performed by the young generation.
Participants will also tour the hospital, talk to other healthcare professionals and medical students.
10 participants will be selected for a paid summer internship to learn more about their desired career and next steps to succeed.
The program is led by Dr. Ikenna "Ike" Okereke, Vice Chairman of the Department of Surgery and System Director of Thoracic Surgery. Dr. Okereke is a native Detroiter and ran a similar program in Texas for 5 years before returning back home in 2021. With support from Henry Ford Innovations, Dr. Okereke is connecting with Detroit-area schools to inspire students to careers in medicine. He feels that these students can succeed if they do not become deterred by doubt or fear of failure.
Data from Dr. Okereke's previous program in Texas showed that students were more likely to answer the following questions more positively after participating in the program:
"I am interested in pursuing a career in science, technology, engineering or medicine."
"I know what subjects I want to study in college."
"I am interested in pursuing a career as a surgeon."
"I am prepared for the academic obligations of college."
"I am confident that I will accomplish my career goals."
"I have the dexterity and physical ability required to become a surgeon one day."
To apply, email iokerek1@hfhs.org, or call, 313-916-2698.
"My main goal is to show students that they have the ability to succeed in whatever field they want. My saying is that 'if you can see it, you can be it.' I simply want to provide the students with role models and expose them to life as a professional."
- Dr. Ikenna Okereke