Center for Integrative Medicine Opens in Dearborn
November 9, 2018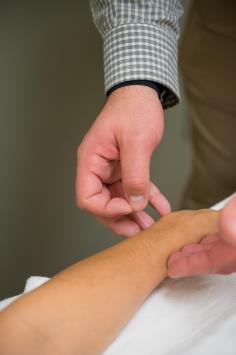 DEARBORN – Demand for acupuncture, chiropractic care, functional nutrition, reiki, meditation and other non-traditional approaches to health and wellness is driving the opening this month of the new Center for Integrative Medicine at Henry Ford Medical Center-Ford Road in Dearborn.
The opening of the office will be celebrated with an open house from 11 a.m. - 6 p.m. Wednesday, Nov. 14. There will be free demos in meditation and tai chi and talks on functional nutrition and acupuncture. Chair massages will be available. The office is on the second floor of the medical center, 5500 Auto Club Drive.
The new location is the fifth for the Center for Integrative medicine, which has offices in Novi, Grosse Pointe Farms, in Troy at the Center for Reproductive Medicine and in downtown Detroit at Henry Ford Quick Care Clinic near Capitol Park.
However, the Dearborn Center for Integrative Medicine is the only one with a fitness and activity studio, an expanse of hardwood floors, windows letting in light, rainbow-splashes of paint in the décor and straps, blocks, bolsters, mats and colorful meditation cushions all to be used for yoga, reiki, meditation, tai chi and other strength-building, mind-calming classes.
The studio will be used by patients and also open to the community and open on Saturdays.
Getting to the studio takes visitors through an office that feels part-medical, part-spa with vibrant, nature-inspired artwork on the walls, calming paint colors on exam room walls, a retail area with natural remedies and vitamins.
Center for Integrative Medicine practices are where oriental and eastern medicine merge with western healthcare and growing evidence that supports the benefits of acupuncture, massage and other integrative medicine treatments for a range of ailments, conditions and diseases.
On staff will be five to six yoga instructors, two chiropractors, two massage therapists and two acupuncturists.
"We want this to be an inviting, comforting, healing place for local residents," said Eleanor Walker, M.D., division director of Breast Services in the Department of Radiation Oncology at the Henry Ford Cancer Institute and medical director of Henry Ford's Center for Integrative Medicine. "We also want this to be a place to be inspired and energized. It's a place to find relief. It's a place to complement and enhance ongoing medical care. It's a place to be with community. It can be a place to make lifestyle changes that lead to greater overall wellness."
The Dearborn office is situated near women's health and behavioral health practice. Physicians from both often have patients who benefit from integrative medicine treatments. Infertility, for example, can be addressed with acupuncture. Anxiety can respond to massage.
Dr. Ryan Gauthier said demand and understanding of the benefits of acupuncture and other integrative medicine is increasing as research and anecdotal evidence mounts.
"The connection between acupuncture, chiropractic treatment and massage therapy and improvements in behavioral health, insomnia, depression, anxiety, eating disorders, side effects of chemotherapy menopause, even stopping smoking is clear," he said. "And especially now as we as a health system address the opioid epidemic it's more critical than ever to find ways to control pain and treat other conditions without prescriptions or surgery."
For more information or to make an appointment, call 248-380-6201 or visit www.henryford.com/CIM
NOTE: MEDIA TOURS AND DEMOS AVAILABLE 11:30 a.m. – 2:30 p.m.
MEDIA CONTACT: Kim North Shine
313-549-4995
knorth1@hfhs.org