New Physical Therapy Location Opens on Royal Oak's Main Street
March 19, 2019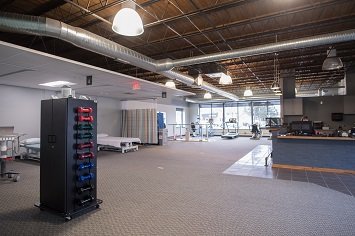 ROYAL OAK – Henry Ford Health System is now offering physical therapy services at a one-of-a-kind location in downtown Royal Oak, bringing proven and innovative treatments to Oakland County residents in a space that's designed to celebrate its Main Street locale and urban vibe.
With exposed ductwork, industrial lighting, reclaimed wood and painted in grays and blacks, the interior design of the latest Henry Ford Physical Therapy office at 616 N. Main Street fits its downtown storefront setting.
Most importantly, the space is designed and equipped for experienced, knowledgeable physical therapists to heal and strengthen patients, from young athletes to seniors, through their recovery from injuries, surgeries and other physical ailments.
The renovated 6,400-square-foot location includes private and open treatment areas that look out on Main Street through large storefront windows, consultation and administrative offices and a professional quality dance studio that's ideal for classes, rehabilitation groups and community health events.
Donald Frega, manager of rehabilitation services for Henry Ford Health System, says he and his team will also use the space for events that promote health, wellness and physical activity.
"We're excited about integrating more into the community," Frega, a Royal Oak resident, said. "There's so much potential and interest here in being a healthier, stronger community, and we want to be a part of that."
Throughout the new location are the latest in tools and equipment to aid in healing knees, elbows, hips, shoulders, ankles and whatever body part is in need of TLC.
"This new location fills a void for the many patients in Royal Oak, Ferndale, Pleasant Ridge and other Oakland County communities in need of physical therapy and physical rehabilitation services," said Jill Norander, physical therapist and site supervisor. She also is a resident of Royal Oak.
"We're excited about the location and about the new approach in the way the space is designed. We think it will be a happy place to work and happy place to heal."
The office is located about a mile from the future Henry Ford Medical Center Royal Oak and builds on plans to expand health care service to more of Oakland County, specifically Royal Oak, where a smaller medical center now operates.
The new medical center will be part of the Royal Oak City Center development at Main Street and 11 Mile Road, the city's largest development project at six-stories high. The 140,000-square-foot Henry Ford Medical Center Royal Oak is expected to open in mid-2020. Specialties will include women's health, pediatrics, orthopedics, and several others. The center will also house a walk-in clinic, Optimeyes and a café.
MEDIA CONTACT: Kim North Shine / 313-549-4995 / [email protected]