Hand Surgery Patients Remain Awake and Pain-Free During Innovative Procedure
January 13, 2021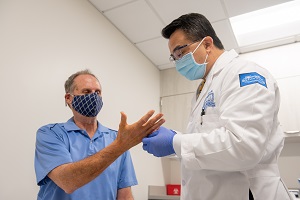 DETROIT (January 13, 2021) – When Michael Moroski opted for wide-awake hand surgery, he didn't realize he would be the first patient to undergo this type of procedure at the Henry Ford Medical Center – Bloomfield Township.
"Compared to the last procedure I had in the hospital, this is much easier, quicker and better," said the 72-year-old Moroski, a retired physical education teacher and Madison Heights resident.
Wide-awake surgery is performed with the use of local anesthesia and is gaining popularity over the years. In most cases, the patient can drive to and from the surgery, and without dietary restrictions the night before the procedure.
Moroski underwent the surgery to repair a condition called Dupuytren contracture, a deformity in the hand in which the joints of one or more fingers can't fully straighten. It typically occurs in men ages 50 and older. The cause of Dupuytren contracture is unknown, although it primarily affects patients of northern European descent.For Moroski, wide-awake surgery was the preferred option because of the convenience and better outcome the procedure offered, "This is the thing of the future, there's no comparison." He was able to drive himself to and from the procedure on December 10 where the surgery was performed in one of the clinic's large exam rooms.
"Expanding the surgery to more clinics across Henry Ford Health System's vast network of outpatient locations allows us to offer it to patients who qualify for the procedure while preserving hospital resources for those patients who require acute care," said Charles Day, M.D., Executive Vice Chair and Chief of Hand & Upper Extremity Surgery of Henry Ford's Department of Orthopedic Surgery.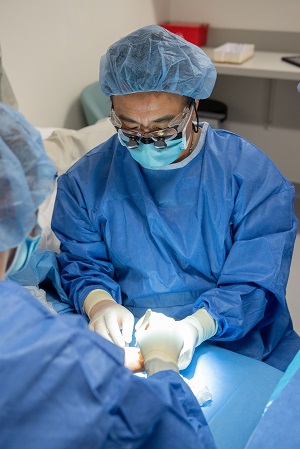 "Hand surgery has traditionally been an outpatient surgery in an operating room setting, but now it is moving in a more patient-friendly and less-costly direction that is equally effective and more convenient for our patients," said Dr. Day.
Moroski's surgery lasted about 10 minutes and he was able to talk with Dr. Day throughout the procedure. Having the patient awake allows the surgeon to react to the patient's real-time feedback and determine the best course to ensure a better outcome. "It made me feel more comfortable having Dr. Day explain everything he was doing," said Moroski, who wore small adhesive bandages over the surgical incision on his right hand after the surgery.
In addition to the Bloomfield Township medical center, wide-awake surgery is available at Henry Ford Medical Center – Fairlane, Henry Ford Medical Center – Columbus, Henry Ford Medical Center - Pierson, Henry Ford West Bloomfield Hospital and Henry Ford Hospital in Detroit.
The Henry Ford Hand and Wrist Care Team offers wide-awake hand and wrist surgery for procedures including:
Wound irrigations
Fracture fixation
Tendon disorders or repairs
Ligament repairs
Trigger finger release
Carpal tunnel release
Arthritic conditions
Mass and cyst removal
"The initiative is aimed at providing more accessible care locations for our hand patients who may need either or both urgent and routine care," said Dr. Day, "A majority of our patients that we have surveyed feel that this is a much more convenient and efficient way for them to get their hand issues cared for in a timely way."
###
About Henry Ford Health System: Founded in 1915 by Henry Ford himself, Henry Ford Health System is a non-profit, integrated health system committed to improving people's lives through excellence in the science and art of healthcare and healing. Henry Ford Health System includes six hospitals including Henry Ford Hospital in Detroit; Henry Ford Macomb Hospitals; Henry Ford Wyandotte Hospital; Henry Ford West Bloomfield Hospital; Henry Ford Allegiance in Jackson, MI; and Henry Ford Kingswood Hospital – an inpatient psychiatric hospital.
Henry Ford Health System also includes Henry Ford Medical Group: Henry Ford Physician Network; more than 250 outpatient facilities; Henry Ford Pharmacy; Henry Ford OptimEyes; and other healthcare services. Our not-for-profit health plan, Health Alliance Plan – HAP – provides health coverage for more than 540,000 people.
As one of the nation's leading academic medical centers, Henry Ford Health System trains more than 3,000 medical students, residents, and fellows annually in more than 50 accredited programs, and has trained nearly 40% of the state's physicians. Our dedication to education and research is supported by nearly $100 million in annual grants from the National Institutes of Health and other public and private foundations.
Henry Ford Health System employs more than 33,000 people, including more than 1,600 physicians, more than 6,600 nurses and 5,000 allied health professionals. For more information, go to henryford.com.
###
MEDIA CONTACT: Sal Giacona /[email protected]/ 313-421-9108