Henry Ford Health System Cardiologist to Lead Michigan Chapter of the American College of Cardiology
April 13, 2021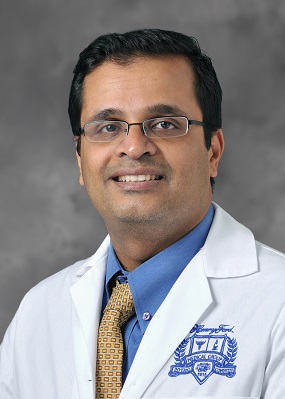 DETROIT (April 13, 2021) – Karthikeyan Ananthasubramaniam, M.D, FACC (Karthik Ananth), Director of Nuclear Cardiology and Cardiac PET Laboratory at Henry Ford Hospital, has been elected to lead the Michigan Chapter of the American College of Cardiology (ACC) through 2025. His three-year term will begin in March 2022, succeeding current ACC Michigan Chapter Governor/President David Wohns, M.D., MBA.

Dr. Ananth began his role as Governor-Elect/President-Elect of the Michigan Chapter of ACC on March 20, 2021.

With more than 54,000 members, the ACC guides the formation of health policy, standards and guidelines in heart care across the nation. The ACC also operates national registries to measure and improve care, provides professional medical education, disseminates cardiovascular research and bestows credentials upon cardiovascular specialists who meet stringent qualifications.

"It's truly an honor to have the opportunity to lead the Michigan chapter of the American College of Cardiology," said Dr. Ananth. "This is a vibrant organization comprises more than 1,400 cardiologists, fellows in training and cardiovascular team members, who make such a meaningful impact and have a strong voice advocating for health policy, practice standards and guidelines, and promoting education for the prevention of cardiovascular disease. I look forward to working alongside our incredibly talented Board to guide the organization towards realizing our mission of transforming cardiovascular care, improving heart health and maintaining the highest ethical standards in our practice."

As Governor/President of the Michigan Chapter of ACC, Dr. Ananth will represent the state's legislative and regulatory concerns, practice needs, and recommendations to improve patient care on the national ACC Board of Governors. Dr. Ananth will also serve as the voice of the Michigan cardiology community when advising local and state government officials, other professional organizations, and leaders throughout the state on issues related to cardiovascular disease, while sharing messages related to cardiac care with Michigan residents.

"Dr. Ananth is an extremely well-respected clinician-educator, researcher-scientist, and community citizen," said Akshay Khandelwal, M.D., interventional cardiologist at Hospital and past Governor/President of the Michigan Chapter of ACC from 2016-2019. "He brings a tremendous amount of programmatic and organizational leadership experience to the table. The Michigan ACC will flourish under his stewardship, with his keen ability to broadly engage cardiovascular professionals and trainees while remaining focused on our core values."

Dr. Ananth received his medical degree in 1991 at the Madras Medical College in India. He completed his internal medicine, chief residency, cardiology and echocardiography fellowships at Henry Ford, and subsequently completed advanced training in Nuclear Cardiology/Cardiac PET at the University of Ottawa in Canada, and Cardiac CT and MR at Beaumont.

Dr. Ananth has authored or co-authored over 100 peer reviewed publications and lectured extensively at the local, national, and international levels. He is board certified in cardiology, adult congenital heart disease, nuclear cardiology, echocardiography, Cardiac CT and Cardiac MRI.
###
About American College of Cardiology
The American College of Cardiology envisions a world where innovation and knowledge optimize cardiovascular care and outcomes. As the professional home for the entire cardiovascular care team, the mission of the College and its 54,000 members is to transform cardiovascular care and to improve heart health. The ACC bestows credentials upon cardiovascular professionals who meet stringent qualifications and leads in the formation of health policy, standards and guidelines. The College also provides professional medical education, disseminates cardiovascular research through its world-renowned JACC Journals, operates national registries to measure and improve care, and offers cardiovascular accreditation to hospitals and institutions. For more, visit acc.org.

About Henry Ford Health System:
Founded in 1915 by Henry Ford himself, Henry Ford Health System is a non-profit, integrated health system committed to improving people's lives through excellence in the science and art of healthcare and healing. Henry Ford Health System includes Henry Ford Medical Group, with more than 1,900 physicians and researchers practicing in more than 50 specialties at locations throughout Southeast and Central Michigan. Acute care hospitals include Henry Ford Hospital in Detroit, MI and Henry Ford Allegiance Health in Jackson, MI – both Magnet® hospitals; Henry Ford Macomb Hospital; Henry Ford West Bloomfield Hospital; and Henry Ford Wyandotte Hospital.

The largest of these is Henry Ford Hospital in Detroit, a quaternary care research and teaching hospital and Level 1 Trauma Center recognized for clinical excellence in cardiology, cardiovascular surgery, neurology, neurosurgery, and multi-organ transplants. The health system also provides comprehensive, best-in-class care for cancer at the Brigitte Harris Cancer Pavilion, and orthopedics and sports medicine at the William Clay Ford Center for Athletic Medicine – both in Detroit.

As one of the nation's leading academic medical centers, Henry Ford Health System annually trains more than 3,000 medical students, residents, and fellows in more than 50 accredited programs, and has trained nearly 40% of the state's physicians. Our dedication to education and research is supported by nearly $100 million in annual grants from the National Institutes of Health and other public and private foundations.

Henry Ford's not-for-profit health plan, Health Alliance Plan (HAP), provides health coverage for more than 540,000 people.

Henry Ford Health System employs more than 33,000 people, including more than 1,600 physicians, more than 6,600 nurses and 5,000 allied health professionals.

MEDIA CONTACT: Jeff Adkins / (586) 307-2027 / [email protected]