Choosing flank steak is a great option for meat-lovers who are trying to eat healthy. What makes flank steak so ideal? First of all, it's a pretty inexpensive choice of steak that can potentially feed a lot of people. Secondly, it's a fairly lean cut of beef, which comes from the abdominal region of the steer. This hard-working muscle area gives the cut lots of flavor without the fat of many other well-known steaks, like sirloin or ribeye.
That leanness is a bonus, but it also means the flank steak can end up being tough. Here are a few tips to overcome that:
Cook it properly. One recommendation is cooking it on the grill with the heat high enough so you get a nice sear on the outside and the rest cooks quickly enough to remain tender. Usually a medium-high heat for about 5-7 minutes on each side will do the trick, depending on your preference for doneness.
Marinate it. Marinades pair well with flank steak. They add more flavor, of course, but also help tenderize the meat. This recipe feature a fresh chimichurri as a marinade with some reserved to use as a sauce when serving. If you're not familiar with chimichurri, give this flavorful Argentinian classic a try. It features fresh parsley, olive oil, vinegar, lemon and garlic.
Thinly slice it against the grain. One of the other ways to maximize tenderness with flank steak is letting it rest for a full 10 minutes after removing it from the heat and then thinly slicing it against the grain of the meat before serving. The thin strips are easier to chew and can also help you control portion size. You get your beef fix with plenty of room left on your plate for lots of veggies and whole grains.
Grilled Flank Steak with Chimichurri
(Downloadable/printable PDF of this recipe)
Yield: 8 servings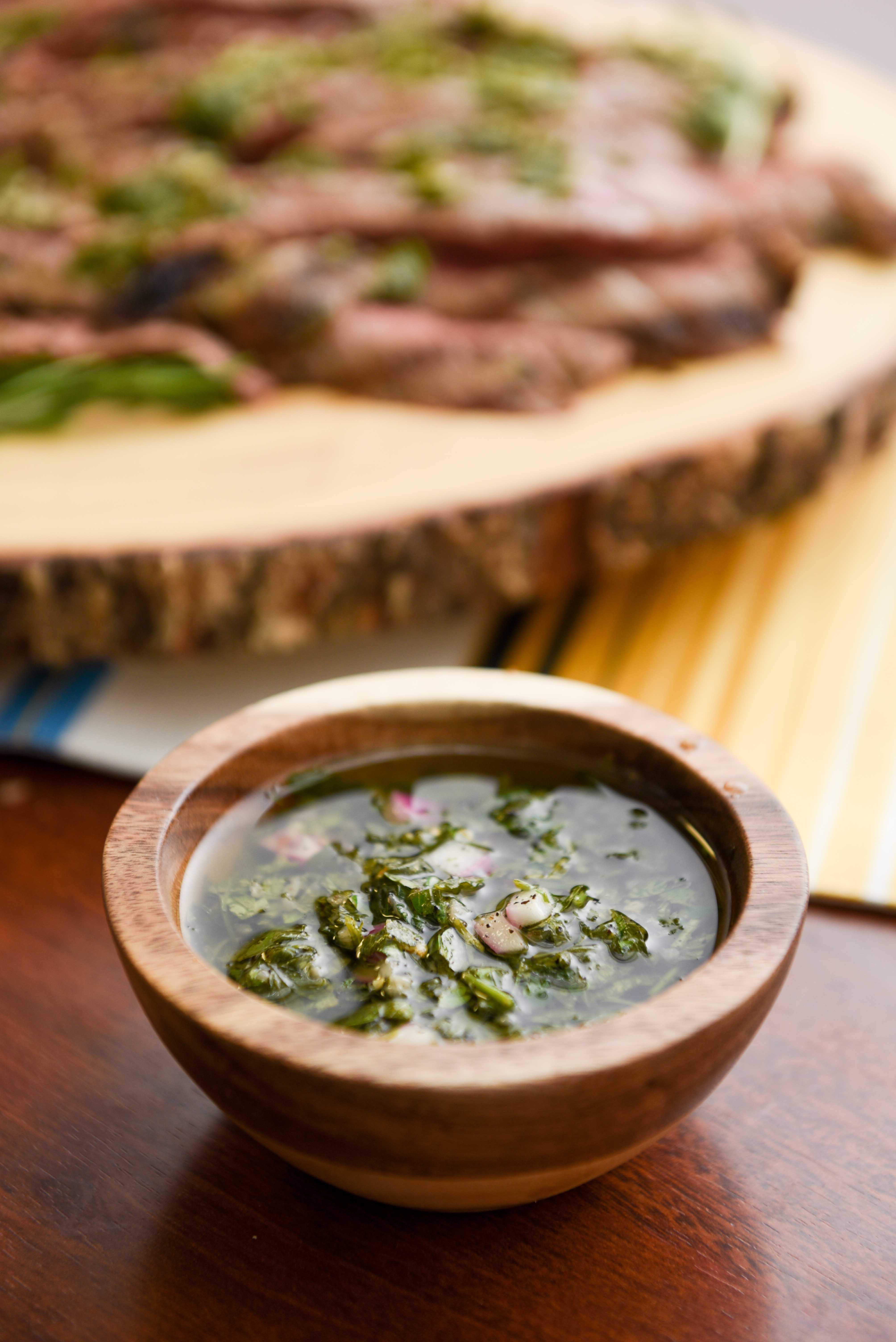 Ingredients:
1 bunch flat leaf parsley
8 cloves garlic, minced
1/2 cup extra virgin olive oil
1/4 cup red wine vinegar
Juice of 1 lemon
1 Tablespoon diced red onion
1 teaspoon dried oregano
1/2 teaspoon red pepper flakes (optional)
1 teaspoon black pepper
1/2 teaspoon salt
2 pounds flank steak
Directions:
Pulse parsley in a food processor and transfer to medium-sized bowl. Add garlic, olive oil, red wine vinegar, lemon juice, red onions, oregano, red pepper flakes (optional), black pepper and salt. Mix thoroughly. Score the steak by making shallow slashes, about 1 inch apart, diagonally across the grain. Place the steak in a shallow glass baking dish. Cover and refrigerate 1/4 cup of the marinade mixture until ready for serving; pour the rest over the steak. Cover and chill 6-8 hours, turning at least once.
Preheat gas grill or prepare charcoal. Remove meat from glass pan and discard its marinade. Grill meat on medium-high heat for 5-7 minutes on each side or to desired doneness. Let rest for 5-10 minutes.
To serve, cut thin slices diagonally across the grain and top with the remaining 1/4 cup of mixture.
NUTRITION INFORMATION PER SERVING: 303 Calories; 13 grams Fat; 4 grams Saturated Fat; 44 mg Cholesterol; 113 mg Sodium; 1 gram Carbohydrates; 0.5 grams Fiber; 32 grams Protein
---
Henry Ford LiveWell and Kroger have teamed up to assist you in your wellness journey! Learn how to shop and cook healthy by signing up for a grocery store tour hosted by a Henry Ford registered dietitian nutritionist at Kroger stores across southeast Michigan.
Looking for more info and want to make an appointment with a registered dietitian? Call 1-855-434-5483 or email ContactUs@henryfordlivewell.com.