The popularity of fast casual dining spots, like Panera or Chipotle, may be because they seem to offer healthier options compared to your traditional fast food places. Let's face it, a sandwich or wrap seems better for you than a burger and fries from the nearest drive-thru. Plus, when most places now boast fresh, organic ingredients, laid-back atmospheres and speedy service, it seems like a no-brainer. Unfortunately, just because these places offer "healthier"-seeming meals, does not mean that they are any better for you.
"The fresh, clean food advertised at these places makes it easier to ignore the hidden truths," says Halle Saperstein, a registered dietitian at Henry Ford Health. "But there's more than meets the eye behind that modern, fresh appearance of many fast casual restaurants. Many times the food can be very high in sodium and saturated fat."
According to a study done by the Journal of the Academy of Nutrition and Dietetics, on average, meals at fast casual dining stops are at least 200 calories more than meals at fast food places (around 760 kcal compared to 560 kcal). That said, there's a lot more to eating healthy than just counting calories. As Saperstein mentions, saturated fat, sodium and the amount of nutrients (vitamins, fiber, protein, etc.) in an item come into play too. A 200-calorie serving of fries isn't the same as a 200-calorie garden salad.
Navigating Fast Casual Dining
When it comes to build-your-own meals, it is easy to go overboard with the extras. Fast casual dining spots boast large menus and plenty of customizable options. Fortunately, you don't have to completely give up on eating out to eat healthier. Next time you head out to eat, use this guide to keep calories in check and nutrients in mind without sacrificing flavor!
For Burrito Places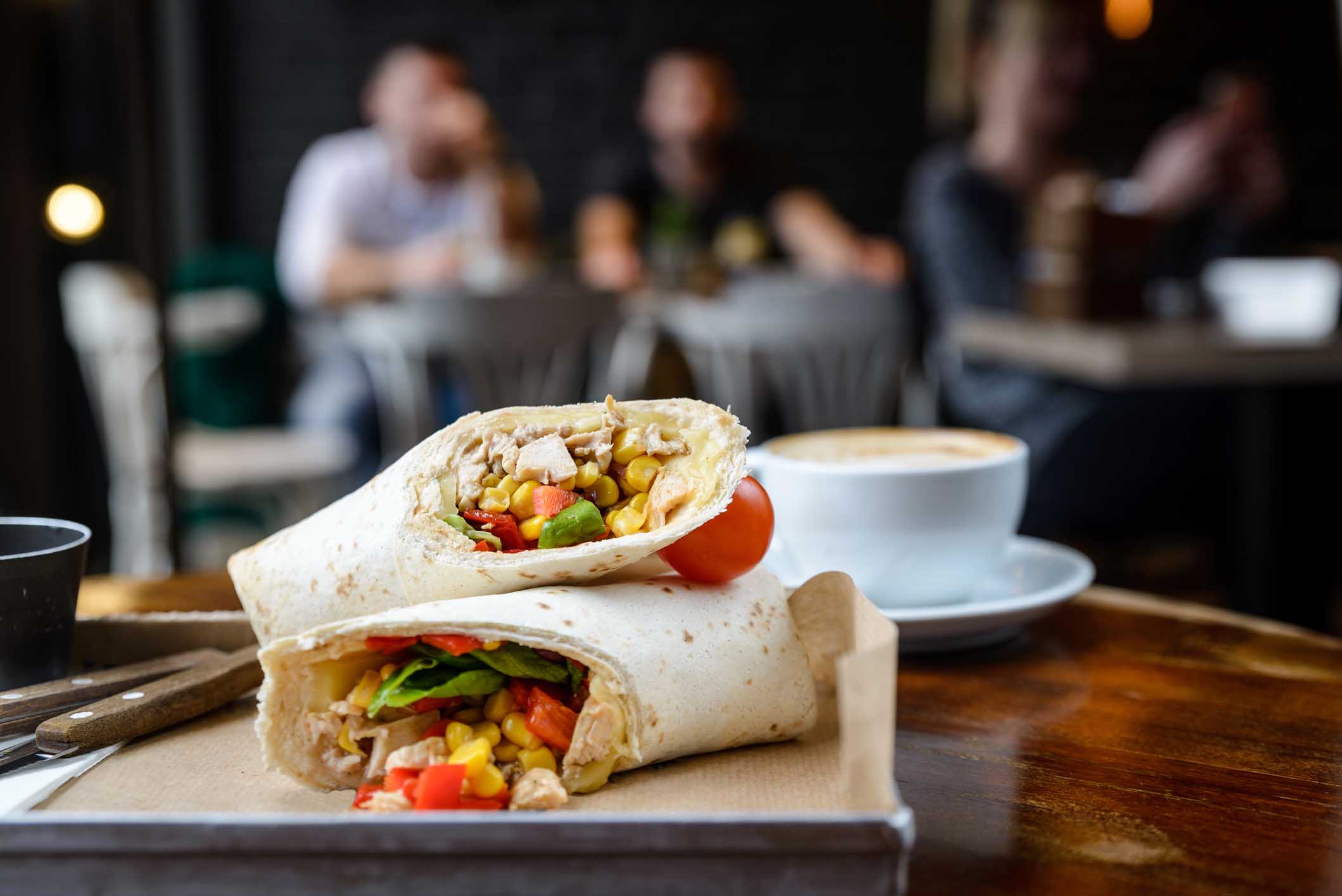 With no limit to your creativity (unless they're charging extra for guacamole), it's easy to load up on high-calorie/high-fat add-ons when building your own burrito. In fact, some burritos can even end up being over 1,000 calories!
The solution: "Choose a burrito bowl over the traditional wrap," says Saperstein. "From there, skip or go light on the cheese and sour cream, but feel free to load up on lettuce, vegetarian beans, peppers and other veggies – even salsa!"
Here are few more tips for building a better burrito bowl:
Swap white rice for healthier brown rice.
Choose a leaner protein (chicken over beef).
Ask for high-fat add-ons, like sour cream and guacamole, on the side and control how much you use.
Skip the tortilla chips.
For Sandwich and Sub Shops
Sandwiches are healthy right? Not always. When the recommended serving of bread is 2 slices of whole wheat, it is easy to see how giant sub buns packed with meats and cheese will set you back.
The solution: Many sandwich shops offer "skinny" meal choices or the option to pick your bread. When given the choice, choose whole wheat. "Many places get you by loading up your sandwich with more meat and cheese than the recommended serving size," says Saperstein. "You can still get what you want, just ask for less meat and cheese, order half a sandwich, or consider asking for the sandwich in a lettuce wrap!"
Tips to ordering healthy at a sandwich shop:
The more veggies, the better.
If you must get the side of chips, go for the baked chips versus traditional.
Skip the cookies and pastries at the register – you're hungry, but you don't need them.
For Salad Bar Chains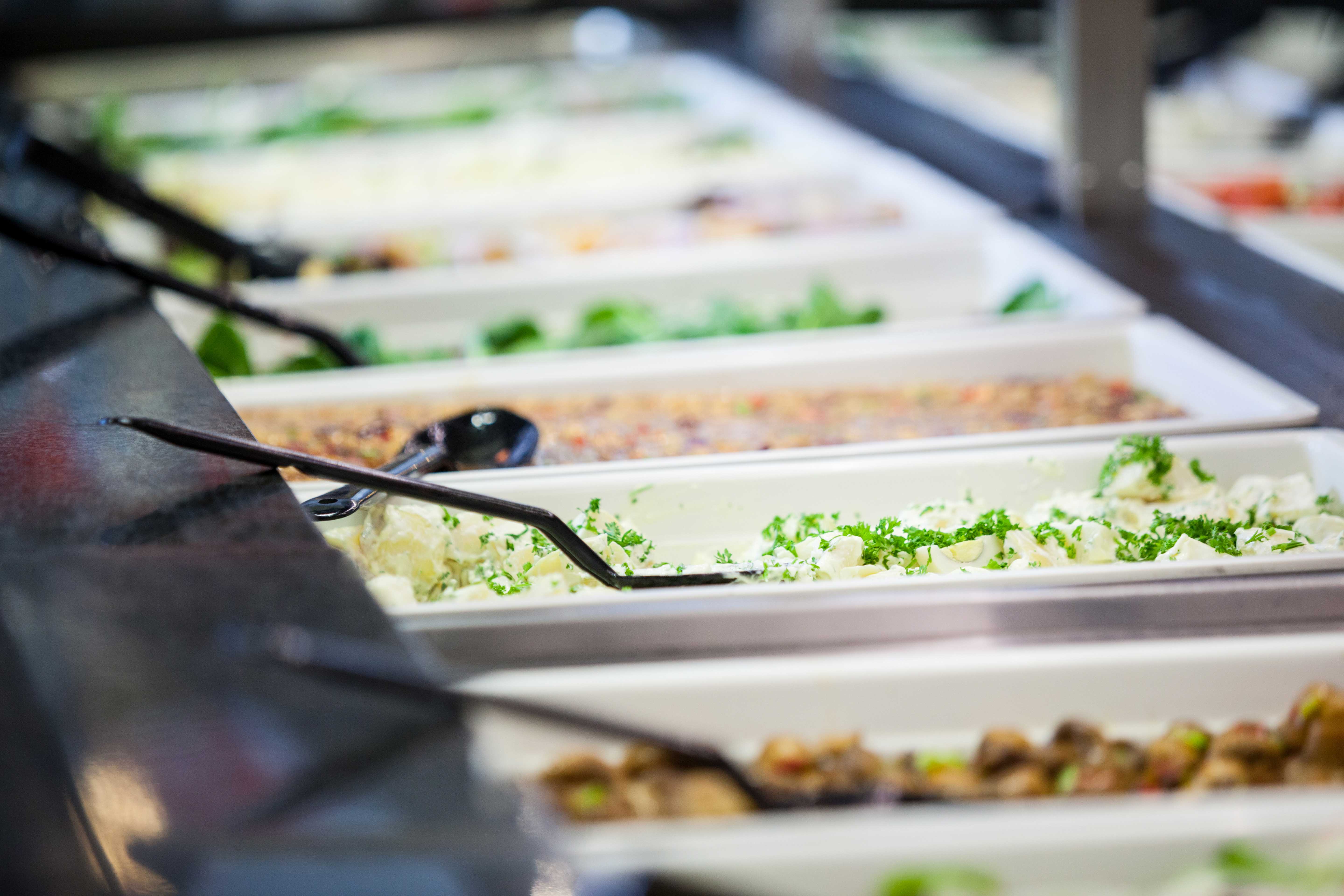 "Salad bars are awesome ways to get healthy food fast," says Saperstein. "But, like most fast casual spots, they can easily sabotage to your diet."
The solution: Learn how to build a better salad. Try mixing nutrient-rich spinach with romaine for an added color, flavor and vitamins. Remember – veggies are a healthy way to add volume and fill you up.
Keep these tips in mind next time you're constructing your salad:
Skip the premixed salads (potato, pasta, coleslaw).
Limit the high-fat add-ins (cheese, wanton noodles, croutons).
Always ask for your dressing on the side.
For Build-Your-Own Pizza Spots
Who doesn't love pizza? Build-your-own pizza places are a great go-to – especially if you have food sensitivities. Many places now offer gluten-free or cauliflower crusts! As much fun as it is to build your own savory pie, it is easy to get out of hand with serving sizes. You don't need to eat the whole pizza!
The solution: Choose healthier ingredients and watch your portion sizes. "Try eating two pieces and saving the rest for later," says Saperstein. "Or, you can split a whole pizza with a friend."
Next time you're feeling in the mood for a slice, try these best practices:
Start with a garden salad – it's better to fill up on veggies than pizza.
Go easy on the meats.
Ask for a light sprinkling of cheese.
Skip the extra sauces offered to top your cooked pizza.
With so many restaurant options and the ability to customize your meals, eating healthy at your favorite spots is possible. Consider apps such as My Fitness Pal or Calorie King to help you look up food items while out and keep track of your calorie consumption.
"If you like going out, plan ahead," Saperstein concludes. "Look at the nutritional breakdowns and have go-to options."
---
To make an appointment with a Henry Ford doctor or dietitian to discussion nutrition and your health, visit henryford.com or call 1-800-HENRYFORD (436-7936).

Halle Saperstein, RD, is a clinical dietitian at Henry Ford West Bloomfield Hospital and enjoys teaching the importance and benefits of a healthy diet.