'Tis the season for all things pumpkin. Whether or not you're super excited about pumpkin spice flavoring everything from dog treats (really) to lattes, canned pumpkin is an inexpensive, nutrient-packed staple for this time of year.
Not sure how to use it? We've got healthy recipes that use this seasonal favorite in ways that have nothing to do with pie. Stock up on some cans to whip up a delicious sweet and savory soup, a creamy dessert or snack dip, or a totally unique pasta sauce.
Sweet and Savory Pumpkin Soup
(Downloadable/printable pdf of this recipe)
Yield: 10 servings (1 cup each)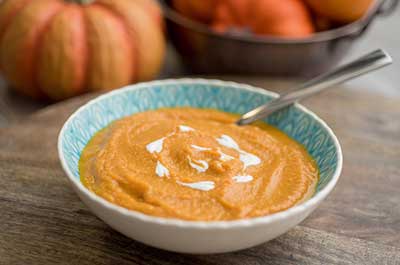 Ingredients:
1 Tablespoon canola oil
1 cup diced onion
2 large Granny Smith apples, peeled, cored and chopped
1 Tablespoon minced fresh ginger
2 teaspoons curry powder
1/2 teaspoon ground cinnamon
3 cups unsweetened apple juice
3 cans (15 ounces each) pureed pumpkin
1 Tablespoon brown sugar
5 Tablespoons fat-free sour cream, divided
Directions:
Add canola oil to a large stockpot and place on stove. Bring to medium-high heat. Add onions and cook until tender, about 5 minutes. Add the apples, ginger, curry powder and cinnamon; cook for 1 minute. Add the apple juice and bring to a boil. Lower heat and stir in pumpkin and brown sugar. Remove from heat.
In a blender or food processor, puree soup in batches until smooth. Return soup to stockpot and heat through. Top each serving with 1/2 Tablespoon fat-free sour cream and serve.
Cook's Notes: This soup could also be served cold. For vegan soup, omit sour cream or use dairy-free substitute.

Nutrition Information Per Serving: 137 Calories; 2 grams Fat; 0 grams Saturated Fat; 1 mg Cholesterol; 21 mg Sodium; 29 grams Carbohydrates; 4 grams Fiber; 2 grams Protein
Creamy Pumpkin Dip
(Downloadable/printable pdf of this recipe)

Yield: 10 servings

Ingredients:
1 1/4 cups canned pumpkin puree
1 teaspoon pumpkin pie spice
8 ounces non-fat whipped Greek cream cheese, room temperature
3/4 cup vanilla non-fat Greek yogurt
1/4 teaspoon vanilla extract
2 1/2 Tablespoons maple syrup
5 small Honeycrisp apples, sliced
Directions:
In a large bowl, combine pumpkin puree, pumpkin pie spice, cream cheese, yogurt, vanilla extract and maple syrup. Beat on medium-high speed until combined and smooth. Transfer to serving bowl and chill for 2 hours. Serve with sliced apples for dipping.
Cook's Notes: To make 1 teaspoon of pumpkin pie spice, combine 1/2 teaspoon cinnamon, 1/4 teaspoon ginger, 1/8 teaspoon allspice and 1/8 teaspoon nutmeg. To prevent apple slices from browning, store in sealable plastic bag with lemon or orange juice; drain juice before serving. Graham crackers also pair well with this dip.
Nutrition Information Per Serving: 103 Calories; 0.5 grams Fat; 0 grams Saturated Fat; 3 mg Cholesterol; 167 mg Sodium; 20 grams Carbohydrates; 3 grams Fiber; 6 grams Protein
Autumn Pumpkin Pasta
(Downloadable/printable pdf of this recipe)

Yield: 6 servings
Ingredients:
1 pound whole-wheat pasta
1 Tablespoon olive oil, divided
2 shallots, chopped
4 cloves garlic, minced
1 15-ounce can pumpkin puree
1 cup low-sodium canned diced tomatoes
4 fresh basil leaves, chopped
1/2 teaspoon black pepper
1/2 teaspoon salt

Directions:
Cook the pasta following the package directions but omitting any salt. Remove pasta from heat and drain. Put pasta back in the pot and drizzle with 1/2 Tablespoon olive oil.
Add the other 1/2 Tablespoon olive oil to a sauté pan and bring to medium-high heat. Add the shallots and sauté for about 5-10 minutes or until softened. Reduce heat to medium and add minced garlic. Sauté until garlic is slightly browned. Add diced tomatoes and sauté for another 5 minutes.
Remove from heat and add mixture to blender. Add pumpkin, basil leaves, pepper and salt. Blend on high until sauce is smooth and creamy. Return sauce to pan to heat through. Pour sauce over pasta and serve.

Nutrition Information Per Serving: 324 Calories; 3.5 grams Fat; 0.5 grams Saturated Fat; 0 mg Cholesterol; 213 mg Sodium; 66 grams Carbohydrates; 13 grams Fiber; 13 grams Protein
---
Looking for more info and want to make an appointment with a registered dietitian? Call 1-855-434-5483 or visit Nutrition Services on henryford.com.