Artificial Intelligence Enhances Radiotherapy for Henry Ford Health Patients with Cancer
November 7, 2023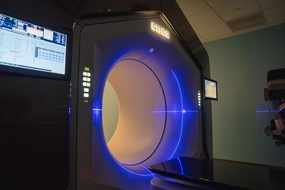 Patients at Henry Ford West Bloomfield Hospital are among the first in the U.S with access to a new treatment system.
WEST BLOOMFIELD, Mich. (Nov. 7, 2023) – Patients undergoing radiation therapy for certain types of cancer at Henry Ford West Bloomfield Hospital are among the first in the country with access to a cutting-edge treatment system that increases accuracy and precision, enhances patient comfort, and minimizes side effects.
This month, Henry Ford began offering treatment with the Varian Ethos™ system equipped with HyperSight, which leverages artificial intelligence and the fastest on-table imaging in the field to enhance precision and increase the likelihood of effectively treating tumors.
"This is not just a step, but a giant leap forward in cancer treatment," said Ben Movsas, M.D., Chair of the Department of Radiation Oncology and Medical Director at Henry Ford Cancer. "Utilizing this new system, treatments can be adjusted and tailored in real-time based on an individual patient's needs and anatomy, as well as the specific changes observed during their therapy."
In traditional radiotherapy, a plan is established at the beginning of treatment and followed through the treatment course. Adaptive radiotherapy allows for real-time modifications to the plan based on periodic assessments while the patient is on the table.
Human anatomy changes quickly through normal bodily processes such as a bladder filling or intestines moving during digestion. In the context of radiation therapy, even slight shifts or alterations in the body during the course of treatment can significantly impact effectiveness.
"This advancement will allow us to deliver personalized treatments, enabling our radiation oncologists to make necessary treatment decisions even more quickly and accurately," said Ken Levin, M.D., Director of Radiation at Henry Ford West Bloomfield Hospital. "This will offer clinically meaningful benefits for many of our patients who require radiotherapy for a wide range of cancers."
Leveraging the power of artificial intelligence to capture and analyze rapid images in real time, the Varian Ethos system with HyperSight quickly detects changes in the patient's anatomy and tumor size, shape or position. Using real-time imaging data, the system automatically adjusts the treatment plan to account for these changes, which is key to achieving better patient outcomes.
"The integration of artificial intelligence into our treatment processes exemplifies our dedication to innovation for the benefit of our patients," said M. Salim Siddiqui, M.D, Ph.D., Director of Stereotactic Radiation at Henry Ford Cancer. "With this advanced technology, our patients can anticipate shorter treatment times and potentially fewer sessions, significantly enhancing their overall experience."
The Ethos system with HyperSight also utilizes artificial intelligence when determining the distribution of the radiation dose, which ensures the tumor receives the optimal amount of radiation, as well as streamlining workflow, which makes the entire process of adaptive radiotherapy more efficient.
"This new radiotherapy treatment option reinforces our dedication to providing the most advanced treatment options available anywhere," said Aharon Feldman, M.D., Radiation Oncologist at Henry Ford West Bloomfield Hospital. "It enhances our available treatment options for many types of cancer, including prostate, lung, breast and others. As leaders in cancer treatment and care, we continually strive to stay at the forefront of medicine for our patients."
The new HyperSight technology enables real-time imaging on the radiation table to be completed in seconds, rather than minutes, a game changing advantage for both targeting accuracy and patient comfort.
"One exciting aspect of this technology is its ability to truly impact the patient experience in a positive way," said Mira Shah, M.D., Radiation Oncologist at Henry Ford West Bloomfield Hospital. "By optimizing treatment and streamlining workflow, we believe we can further minimize the side effects patients sometimes experience due to radiation therapy."
The addition of this revolutionary treatment option builds upon the first Halcyon-Ethos radiation unit in Michigan, which arrived at Henry Ford Jackson Hospital in 2020. With this latest advancement at Henry Ford West Bloomfield Hospital, Henry Ford continues to solidify its position at the forefront of cancer care in Michigan and beyond, underscoring its commitment to improving patient outcomes and quality of life.
For more information about cancer care at Henry Ford Health, visit henryford.com/cancer.
###
MEDIA CONTACT: mediarelations@hfhs.org