Allergy & Immunology Fellowship
Division Head: Edward M. Zoratti, M.D.
Program Director: Christian G. Nageotte, M.D.
Program Coordinator: Emilie Miller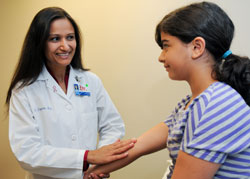 For more than 60 years, the Henry Ford Allergy and Clinical Immunology division has been dedicated to training of world-class physicians.
In 1947, Dr. Joseph Schaeffer sought to create an allergy and immunology fellowship with a unique balance of research and clinical training. This two-year training program is open to highly qualified pediatricians and internists interested in obtaining board certification in allergy and immunology.
Each year two fellows are accepted to begin training devoted to developing expertise in the management of patients with allergic and immunologic disorders as well as dedicated time to perform high-quality research. Clinical rotations at three hospitals and three outpatient offices ensure exposure to a wide range of patients with diverse pathology. All fellows are enrolled in a graduate level immunology course taught at neighboring Wayne State University.
Our program mission:
To nourish the intellectual curiosity of tomorrow's allergists and so promote the life-long pursuit of learning and compassionate care to our patients.
Message from our Program Director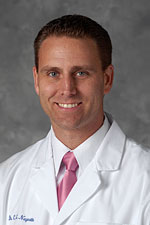 As you consider your career in the specialty of allergy and clinical immunology, it should be with an appreciation and wonder at the scope of this field. The population continues to increase in its atopic prevalence despite our amazing advances in knowledge of this phenomenon.
The opportunity for a physician to be able to interact with patients representing the full spectrum of human life from birth to the aged is common in our field and represents unique challenges and rewards.
Our growing understanding of the human genome and the crucial role this fragile blueprint plays in our complicated immune system touches each discipline of medicine. From the congenitally immunocompromised to the grandparent with rheumatoid arthritis, from the hay fever sufferer to the severe asthmatic and from the organ transplant recipient to the survivor of HIV, immunology will continue to be vital into the 21st century and beyond. Our endeavor is to provide you the tools to become the best physician you can be now and the encouragement to become the leaders of tomorrow.
Christian G. Nageotte, M.D.
Allergy Fellowship Program Director