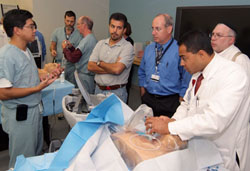 An elaborate computer system supports everything from surgical robots to advanced audiovisual and archiving equipment - allowing for a wide range of surgical, procedural and patient care simulations. Looking to the future, the Center's dynamic infrastructure allows for expansion in response to the world's emerging technologies. Two technicians and an information technology specialist provide full-time, on-site support.
The one-of-a-kind facility features include:
Operating Room Theaters - Two operating rooms are available for surgeon, anesthesia and operating room team training. The O.R. mannequin is designed to allow the complex simulation of airway, heart and lung conditions, and monitoring of CPR
and defibrillation.
Minimally Invasive Procedure Lab - With more than 30 stations, the endoscopy and laparoscopy lab allows users to perform a variety of endoscopic procedures, such as flexible bronchoscopy, upper endoscopy, sigmoidoscopy, colonoscopy and laparoscopic surgery.
Ophthalmic Surgery Simulation - The VRmagic EYESi® ophthalmic surgery simulator for cataract removal and lens implementation is the first in Michigan and one of only 18 in the United States.
Clinical Patient Rooms - Three rooms are designed for residents, and nursing and medical students to enhance their clinical skills and provider-patient communications.
Trauma Simulation - The full-body, SimMan® mannequins have realistic-looking injuries and can be used for team training, trauma skills and ER resuscitation simulations.
Vascular Surgery Simulation - ANGIO MentorTM provides hands-on practice in an extensive and complete simulated environment of interventional endovascular procedures. Interventional cardiologists, interventional radiologists and vascular surgeons can use it to perform complete procedures such as balloon dilation angioplasties or similar procedures using a stent or other interventional devices.
Birthing Simulation - The Gaumard® NOELLETM maternal and neonatal birth simulator prepares the labor and delivery team for obstetric management as well as advanced life-support for mothers and neonates.
Procedure Simulation - Lumbar puncture, thoracentesis, paracentesis and knee arthrocentesis techniques are perfected in the Center.
Classrooms - A conference room and a 50-seat classroom are hubs for lectures, real-time review and post-simulation debriefing. Advanced audiovisual technology also allows live simulations to be observed in the Center or beamed off-site to classrooms around the world.