Henry Ford Health annually reports information on its achievements and accomplishments, financial performance and to honor the work of its highly talented and innovative workforce.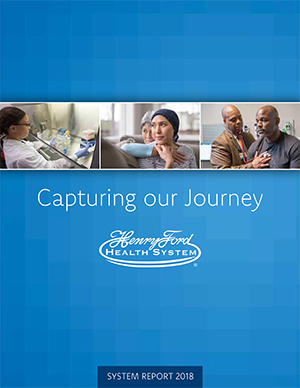 In an industry where change is constant, Henry Ford Health continues on a transformational journey toward its vision and True North: We will be the trusted partner in health, leading the nation in superior care and value. The 2018 System Report, Capturing our Journey, is a glimpse into the health system's expansion and growth, innovation and discovery, and service to patients and the community. Join the team of more than 32,000 as they stretch the boundaries of health care and, through their unique talents and compassionate spirits, bring exceptional care to patients, locally and around the world.
Past reports
Great work is seldom accomplished in a vacuum. At Henry Ford, 30,000 team members work together with patients, donors, other health systems, and even professional sports teams to bring about real progress in health care, locally and globally. The 2017 System Annual Report, The Power of Partnerships in Health and Healing, highlights many of Henry Ford's unique and progressive partnerships. Each partnership plays a role in bringing the System closer to its True North: We will be the trusted partner in health, leading in nation in superior care and value.
This year was a time of Transforming The Science and The Art of Healthcare and Healing for Henry Ford Health. Filled with many significant achievements, 2016 was a pivotal year for Henry Ford as we look to a bright and exciting future. The 2016 Annual Report highlights these accomplishments while recognizing the passion and dedication of the entire Henry Ford team who make it all possible.
2014/2015 System Annual Report
In a year when Henry Ford Health celebrated its Centennial, we not only took time to reflect and enjoy our rich 100-year history, we also made significant accomplishments in strengthening our organization to further help patients and the communities we serve.
Our 2015 System Report highlights a special and unforgettable year of celebration, amazing people, innovation and an endless commitment to improving patient care.
2013/2014 System Annual Report
Transforming Lives and Communities Through Innovation, Care Coordination and Collaboration is what Henry Ford Health has been all about since Henry Ford Hospital opened its doors in 1915. As we head into our 100th year of providing world-class care to the Detroit community, commitment to these core competencies is demonstrated every day by our Henry Ford team members. This report highlights the organization's core competencies of Innovation, Care Coordination and Collaboration, in addition to its 2013 financial performance.
2011/2012 System Annual Report
Whether it's earning the 2011 Malcolm Baldrige Award for Performance Excellence or changing the way we deliver care through a new information platform called Epic, Henry Ford Health is "Transforming lives and communities through health and wellness -- one person at a time." The 2011-2012 System Report highlights several accomplishments as told through the real stories and real words of individuals and teams across Henry Ford and how they are making a difference.
2010/2011 System Annual Report
Through a number of strategic initiatives and forward-thinking projects, Henry Ford Health is working to boost the health of an ailing local economy and play a key role in the area's revitalization. The 2010-2011 System Report features many of the exciting projects and achievements of Henry Ford Health over the past year, including Live Midtown, the Innovation Institute and the vision for the future expansion of Henry Ford Hospital's campus.
2009/2010 System Annual Report
Our 2009/2010 report, titled "Collaboration. Integration. Transformation", focuses on how Henry Ford Health is collaborating and creating new partnerships to bring new hope and energy to Detroit and surrounding communities, how the System's many parts are working together to ensure care is organized around the patient and how Henry Ford is transforming it delivery of safe care, equitable care and employee health and wellness.