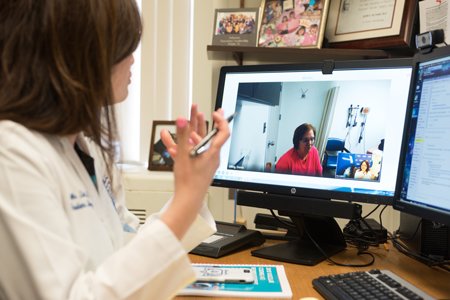 Patients don't always need to come to a brick-and-mortar building to receive world-class care. By embracing technology, Henry Ford makes it possible for patients to have a visit with their doctor from wherever they are, check their lab results, and even experience the comfort of continuous health monitoring in their own homes. Virtual care is delivered in both real-time video and asynchronous* formats such as secure online/email messaging. A telehealth infrastructure has been developed over the last five years, positioning Henry Ford to offer and expand digital care in the coming years.
---
In 2018, Henry Ford Health achieved:

---
Virtual Patient Encounter Growth
Since 2015, virtual patient encounters have grown 817 percent.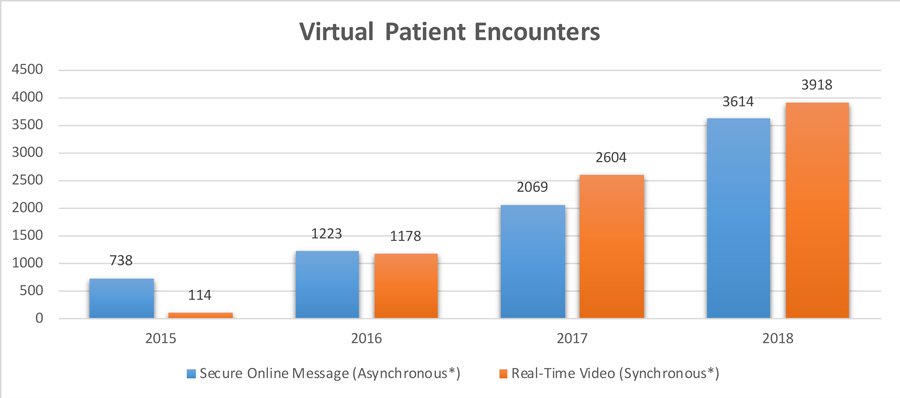 ---
Virtual Care Saves Time, Miles and Fuel
Virtual care is convenient and cost effective. In 2018, virtual care:
Eliminated 104,550 miles of driving for patients – the equivalent of more than 134 days of drive time. This savings is a 31 percent increase over 2017.
Eliminated 2,890 miles of driving for providers – the equivalent of 12 days in the clinic.
---
Remote in-home monitoring gave 1,800 Henry Ford Home Health Care patients and their physicians reassurance, decreasing hospital admissions for this group by five percent. Easy-to-use wireless devices enabled patients to track their vital signs and conditions daily. More than 80,000 interactions took place in 2018, including assessment of vital signs and phone and video calls from the telehealth team. When concerns arose, physicians were quickly notified for timely intervention. Patients with conditions such as heart failure, COPD and cancer, benefitted from this program, as well as the most vulnerable Comprehensive Care Center patients. Learn More
---
MyChart Reaches One-Half Million
By the end of 2018, more than 500,000 patients had logged in to their MyChart accounts. More than 2.75 million test results were viewed using MyChart, enabling patients to stay on top of their important health data.
In 2018 alone, patients used MyChart to engage in:
3,614 asynchronous* encounters using secure online messaging: e-Visits, e-Consults, Virtual Post-op Visits
49,464 appointment requests
48,018 self-scheduled appointments
240,383 medication refill requests
333,693 patient advice requests
Learn more about MyChart.
---
*Asynchronous messages are typically secure email or other communication that is stored and not "real time." Synchronous is real-time communication that includes, at a minimum, audio and video.