The Henry Ford Mission – We improve people's lives through excellence in the science and art of healthcare and healing – was evident in 2018 through the stories of our patients, members and our employees.
---
A Trip to Hawaii is in the Plan for Donald Robinson after Successful Colon Cancer Surgery
A trip to Henry Ford for a ruptured appendix led to the detection of Stage 4 colon cancer, which had spread to his liver. Donald Robinson immediately met with surgeons, who removed all the cancer in a single, four-hour surgery. He continues to receive a CT scan every two months to detect any changes. "I love spending time with my grandchildren, fishing, working around the house and taking care of my yard and the garden," he says. Robinson and his wife Zelda celebrated 40 years of marriage in 2018 and are planning a trip to Hawaii to celebrate. Learn More
---
Terrie Colvard, R.N., Nephrology Nurse Navigator and Power of One Winner, Empowers Patients to Make Treatment Choices
Working closely with home dialysis patients, Terrie Colvard, R.N., from Greenfield Health Systems, Henry Ford's provider of dialysis services, developed a plan to thoroughly prepare patients for dialysis and give them a voice in choosing the type of dialysis they receive. Her goal was to give patients with kidney failure a better experience. "Patients knew the basics of dialysis, but they didn't know enough to choose which modality would fit their lifestyle," she says. Using education, creativity, empowerment and support, she is helping patients live their best lives. Learn More
---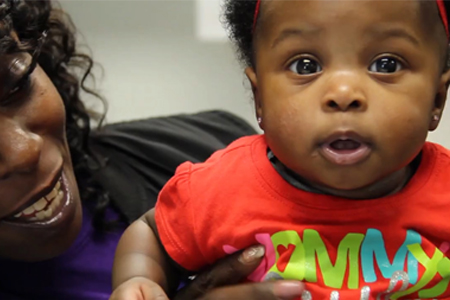 Group Prenatal Care Program Contributes to Full-term Pregnancy Success for April and Ava
Before joining the Women Inspired Neighborhood Network: Detroit (WIN Network), which includes a prenatal care program, April had never carried a pregnancy to full term. She says the care, resources and support she received are why this pregnancy was different. "I know and truly believe it had a lot to do with the group prenatal care program," she says. "We talked about everything that's going on with our pregnancies. The Community Health Worker helped me out with a lot of things, they had a lot of different resources for me and my family." Baby Ava was delivered full term and is growing and doing well. Learn More
---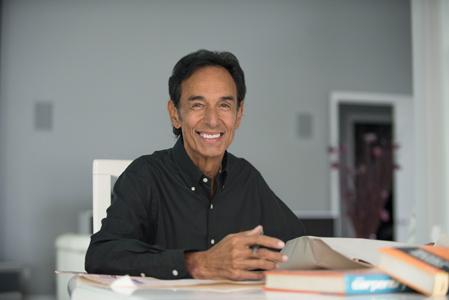 Georgio Maggiorino Celebrates Seven Years Post-Transplant along with Transplant Institute's 50-Year Anniversary
Georgio Maggiorino received a multivisceral transplant in 2010, and in 2018, celebrated his own anniversary along with the Henry Ford Transplant Institute's 50-year anniversary. After cancer had advanced from his liver to multiple organs, a team of transplant specialists removed his liver, pancreas, stomach and small intestine and replaced them with donor organs. "I have a normal life," says Maggiorino. "Look at me. I'm alive. It's been seven years, and I'll be here for the next seven years." Learn More
---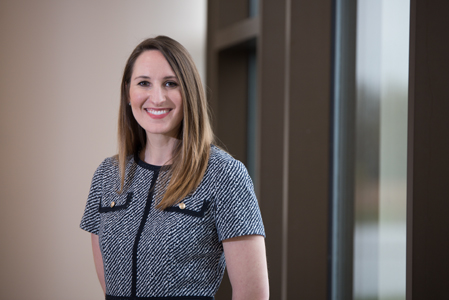 Erin Welch's Family Continues to Grow following Liver Tumor Embolization and Ablation
After discovering she had liver tumors while pregnant, Erin Welch was referred by a family friend to Henry Ford. "Finding out you have a tumor anywhere is a frightening experience," she says. Treatment began with embolization (a procedure designed to stop blood flow to the tumor cells), followed by ablation (in which heat from radio waves destroys the tumor cells with pinpoint accuracy). Today, Welch has an active lifestyle and is raising her one-year-old daughter, Lily. She and her husband Nate are anxiously awaiting the arrival of their second child.
---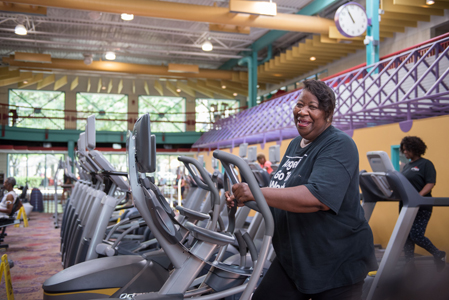 Sherry Murphy Puts Health First After Heart Attack
A heart attack brought Sherry Murphy to Henry Ford Health, where doctors placed three stents into her heart. Following her hospital stay, Murphy enrolled in the cardiac rehabilitation program, where she realized, "My new frame of mind took me away from just existing and really helped me pay attention to everything – how I was eating, the calorie content of foods and ways to cook foods for a healthier lifestyle." She became more active and today, puts her health first. "When I came out of the hospital, life began again," she says. Learn More
---
Wilma Moore, Employee Health Program Assistant and Power of One Award Winner, Offers Exceptional Customer Service to Team Members
"I believe when people come to Employee Health they should feel welcome. People don't necessarily want to come here, so we need to make them comfortable," says Wilma Moore. She coordinates pre-employment health screens and calls it more of a "concierge service" and a way to make a great first impression. Due to her efforts, employees have the convenience of on-site flu shots. Moore embodies the concepts of radical convenience and exceptional customer experience with new and existing colleagues to ensure their health and safety. Learn More
---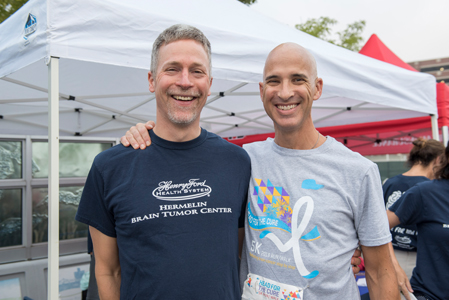 Gill Doyle Teams Up with his Neuro-oncologist to Run a 5K after Glioblastoma Surgery
Eight days after a splitting headache brought him to the ER, Gill Doyle had surgery at Henry Ford's Hermelin Brain Tumor Center to remove a cancerous tumor from his brain. A team of physicians coordinated treatment for his Stage 4 glioblastoma. Today, he is back to work, playing golf, raising his four children with his wife Jennifer, and running. In September 2018, Doyle ran in a 5K alongside his daughter and his neuro-oncologist, Tobias Walbert, M.D. (at left, in photo). "I have had so much support from friends and family. Life has been fantastic," says Doyle. Learn More
---
Non-Surgical Shoulder Repair Returns Cyndy Lambert to an Active Lifestyle
After a torn rotator cuff and injury to her shoulder's acromioclavicular joint, Cyndy Lambert was unable to be as active as she liked to be and to play her favorite sport, tennis. But she didn't want surgery that would involve a lengthy recovery. Henry Ford Orthopedics recommended outpatient shoulder surgery and repair of the rotator cuff tear with a bioinductive collagen patch – a newer procedure with a much shorter recovery time. "I was amazed at how quickly my recovery progressed. I not only resumed an active lifestyle within weeks, I did it with only ibuprofen for pain," she says. "I will always be grateful this surgical option was available." Less than two weeks after surgery, Lambert was walking her dog, Woody, and three months after that, returned to playing tennis. Learn More