Safest Care and Best Outcomes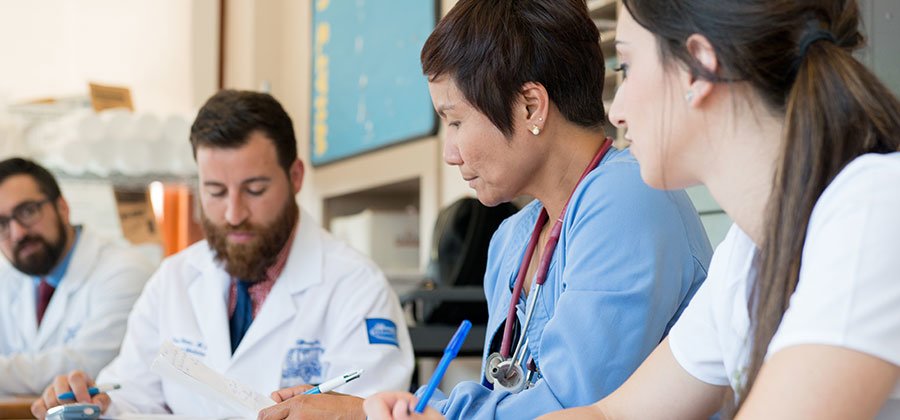 By designing patient safety into every facet of care, Henry Ford strives to improve patient outcomes. Leadership and team members are empowered to create an environment that is free of medical errors.
---
Robotic System Enables Pharmacists to Dedicate Extended Time to Personal Patient Interactions
In 2018, Pharmacy Advantage implemented a fully automated, robotic dispensing system that can fill 2,500–3,000 prescriptions in eight hours. More than 236,000 prescriptions were filled in the first year, with a dispensing error rate of zero. Pharmacists and pharmacy staff use the time they gained for one-on-one patient interactions. Through personal calls, staff talk with patients to make sure they understand how to take their medications, are taking them correctly and refilling them on time – improving health and decreasing hospital readmissions.
In addition, a collaborative Transitions of Care program brought Henry Ford Inpatient and Outpatient Pharmacy and Pharmacy Advantage together for Henry Ford Transplant Institute patients. Patient medication refill rates are carefully monitored, along with lab results, to alert physicians and patients of missed refills, doses, and other concerns.
Learn More about Pharmacy Advantage.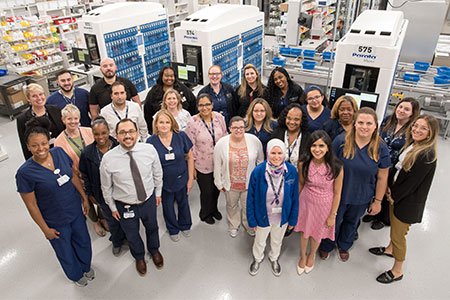 ---
Leaders Focus on Safety and Communication
In 2018, 1,900 leaders were trained on Leader Behaviors and Error Prevention Tools. Two effective strategies employed throughout Henry Ford Health to improve patient and employee safety are:
Daily Safety Huddles: 30-minute Safety Huddle meetings are held daily at all hospitals, and have spread to many ambulatory sites. Gathering in person, team leaders from every area report on and resolve critical issues that could affect patient and employee safety.
Lean Daily Management: Visual boards located on units focus on improving a specific aspect of care that affects quality and performance. Data is measured and tracked and boards are updated daily. Team members meet ("huddle") every day to address what went right and what can be improved based on the data collected.
---
System Redesign and Transformation
Robust, system-wide clinical teams, consisting of physicians, nurses, frontline staff and leaders, focused on improving key areas in 2018, including obstetrics, neonatal, spinal fusion, and hip and knee care. Teams also improved care coordination and reduced mortality and morbidity for patients with congestive heart failure (CHF), sepsis and C. difficile infection. C. difficile rates declined notably, from an average in 2016 of 5.5 cases/10,000 patient days to just 3.3/10,000 in 2018.
---
Henry Ford Allegiance Health Reduces Sepsis with Specialty Unit
Due to ongoing efforts, mortality rates for sepsis at Henry Ford Allegiance Health are far lower than the national average. To augment these life-saving efforts, a 19-bed Sepsis Unit was opened in December 2017. In one year, the length of stay for all sepsis diagnoses dropped from 6.0 to 4.9 days. This specialized unit is one of only a few in the United States. Learn More
---
System Providers Tackle the Opioid Crisis
Henry Ford effectively reduced the number of opioids prescribed to non-cancer patients by 29 percent by the end of 2018. Medical providers participated in pain management training, developed guidelines and strategies, and expanded pain management treatment to include alternative therapies, referrals, enhanced rehabilitation therapies and behavioral health services. The electronic medical record system (Epic) was integrated with the Michigan Automated Prescription Service (MAPS), and together with electronic safety tools and analytic measures, the System continues to accurately monitor and review opioid prescribing across the organization. Learn More
---
Nursing-Driven Initiative Reduces Fall Risk
Every year in the U.S., between 700,000 and 1 million people fall while in the hospital. To reduce the possibility of falls at Henry Ford, a nursing-driven effort led the System to incorporate the Hester Davis algorithm into the electronic medical record system. This tool predicts patients at risk for falls, then helps staff prevent them by adding specific interventions, individualized for each patient and adjusted in real-time based on the patient's condition. In the first three months, falls with injury were reduced at Henry Ford Hospital by an average of 46 percent, with one month reaching a 72 percent reduction.
---
Henry Ford Allegiance Health Recognized as a Pioneer in Quality
Henry Ford Allegiance Health was recognized by The Joint Commission as a 2018 Pioneers in Quality™ Solution Contributor for its contributions to electronic clinical quality measure (eCQM) data for quality improvement in health care. Out of 3,200 Joint Commission-accredited hospitals that reported 2017 data, Henry Ford Allegiance Health is among only 25 that were recognized in 2018 for embracing new technology to submit data about the care it provides to patients. Learn More