Center for Health Policy and Health Services Research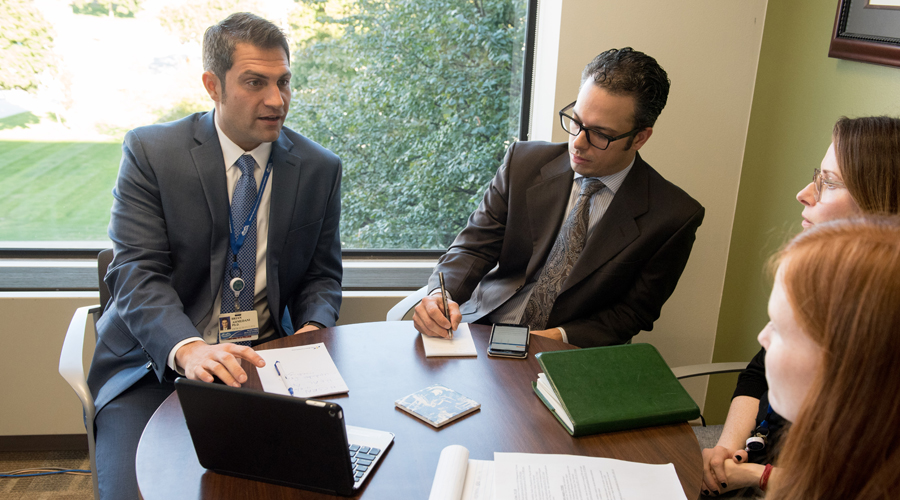 Measuring Interventions and Evaluating Policies Improves Health Services
The team in the Center for Health Policy and Health Services Research at Henry Ford is working to discover why some healthcare services may not achieve the expected results. Their combined aim is to improve quality of care, maximize the health of populations, and minimize the burden of disease. Their work involves changing policies and leading or participating in research studies investigating prevention and control of cancer, chronic liver disease, substance abuse, diabetes, mental health conditions, and more. In 2018, Center investigators received more than $3 million in new awards from federal, foundation and industry grants.
According to the Center's Director Brian Ahmedani, Ph.D., many multi-site projects have led to collaboration across the System and in partnership with other institutions.
"We collaborate with leading experts at Henry Ford and around the country to study healthcare services and health policy research questions," explains Ahmedani.
"One of our goals is to develop and test models for the delivery of health care to different groups, focusing on which services work for who, measuring access, engagement, interventions and effectiveness."
We also conduct trials and studies to measure how different interventions are used in care and how they affect outcomes. We want to know if they are working.
A burst of research in 2018 centered around mental health care. A study called SBI-tech Michigan, funded by the Centers for Disease Control and Prevention, examined the effectiveness of technology-based screening and brief treatment for alcohol use in women's health and primary care clinics.
In addition, the team continues to lead the Zero Suicide Project, funded by the National Institute of Mental Health. "The ultimate goal is to prevent suicide attempts and deaths for individuals already receiving treatment at a healthcare system," says Ahmedani.
The Center's investigators, project and research coordinators, and data analysts also engage in policy research and policy analysis, evaluating policies that are considered or implemented at the state, federal and local level, to discover how those policies impact practice changes. The Center also continues to be an integral part of the All of Us research program.
"All of our work is focused on measurement and improvement in healthcare delivery, both now and for the future, in order to reach the highest quality of care," says Ahmedani. Learn More