Pioneering Exosome Research Offers Exciting Therapeutic Developments for Treating Neurological Injury and Disease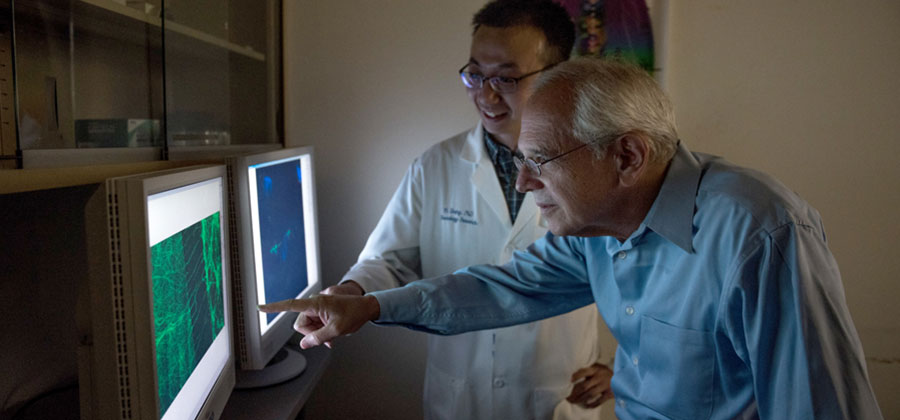 The Chopp Lab is the largest basic and translational science lab in the Neurology Department and had 19 National Institutes of Health (NIH)-funded ongoing grants in 2018. They have pioneered and are leading development of restorative cell-based and exosome therapies to treat neurological diseases and cancers.
Michael Chopp, Ph.D., explains: "Exosomes, which are generated by nearly all cells, are nanoparticles (~30-120nm) containing proteins and genetic instructions – DNA, RNA, mRNA and microRNAs – that mediate communication between cells. We have harvested exosomes from stem and other cells and engineered the contents of exosomes, thereby generating novel exosomes to successfully treat neurological injury and disease, and cancers."
Exosome therapy for neurological diseases and injuries amplifies the generation of new brain cells (neurogenesis), formation of new blood vessels (angiogenesis), and creation of new electrical connections (synaptogenesis).
"Essentially, we have demonstrated in multiple pre-clinical models of neurological injury and diseases, including stroke, traumatic brain injury, dementia and neuropathy, that administration of select and engineered exosomes can remodel the nervous system, reduce neurological damage and greatly enhance neurological recovery," says Dr. Chopp. "In addition, in first-of-their-kind experiments, we demonstrated that select exosomes and specifically engineered exosomes can be used to improve the adverse effects of chemotherapy as well as substantially boost the therapeutic effectiveness of chemotherapeutic agents for treatment of multiple forms of cancers."
Using highly clinically relevant pre-clinical models of disease and injury, Chopp Lab studies demonstrate that exosomes could offer significant therapeutic benefits.
"These discoveries have the potential to create a shift in how we treat traumatic brain injuries, stroke and neurological diseases, and cancers."
A pioneering team in the field of restorative neurology, Chopp Lab researchers are also developing pharmacological and other methods to stimulate and amplify remodeling of the nervous system after neurological injuries such as stroke and traumatic brain injury, and neurodegenerative diseases, including multiple sclerosis (MS), peripheral neuropathy and dementia. The goal is to remodel the central nervous system to compensate for injured brain tissue. Learn More