Linda Harden M.S., B.S.N., R.N.
Nursing Administrator
Ambulatory Nursing
Henry Ford Medical Group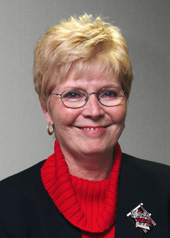 Linda Harden M.S., B.S.N., R.N., is responsible for nursing practice and nursing standards in Henry Ford Medical Group's ambulatory sites.
Harden has spent the 30 years of her career in ambulatory nursing. She has held positions of nursing supervisor, nursing administrator and administrative manager at several Henry Ford medical centers both in primary care and specialty care.
She has a bachelor's degree in Nursing from Madonna University and a master's degree in health care administration. In 2003, she was received the Nightingale Award for Nursing Administration; was named Registered Nurse of the Year awarded by the Detroit News and Free Press and was named the Crain's Detroit Business Health Care Professional.
A long-time member of the Henry Ford Community College Health Careers Advisory Board, Harden also is a member of Sigma Theta Tau, American Academy of Ambulatory Care Nursing, American Nurses Association, Great Lakes Ambulatory Care Nursing Networking Group and the American College of Healthcare Executives.