Recognition of Nursing Excellence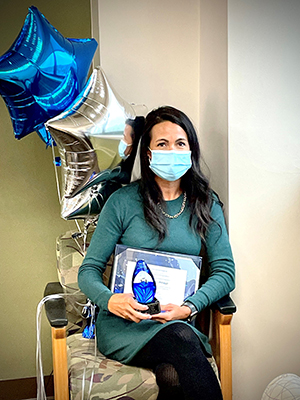 Our Henry Ford Jackson Hospital nursing team goes above and beyond for patients every day. To show appreciation for the excellent clinical practice and patient centered care, the nurses and patient care support staff members are recognized during the annual Nursing Excellence Awards and monthly DAISY and Honey Bee Awards. As part of Henry Ford Health System, our nurses are also eligible to be recognized at the Henry Ford Hospital Clara Ford Nursing Excellence Awards ceremony as well.
Nursing Excellence Awards
The Nursing Excellence Award honorees demonstrate exceptional qualities in exceptional clinical practice, and teamwork. These awards allow us to recognize nurses who make the finest contributions to patients, work environments, and our community through elevating the professional practice of nursing at Henry Ford Allegiance Health.
DAISY Award
The DAISY Award is an international recognition program that rewards and celebrates the extraordinary clinical skill and compassionate care given by nurses every day. Henry Ford Jackson Hospital is proud to be a DAISY Award partner, recognizing our nurses with this special honor every month. Nominate a nurse.
Honey Bee Award
The Henry Ford Allegiance Health Honey Bee Program provides an opportunity to recognize and celebrate nursing support team members who go the extra mile and create excellent experiences for patients and their family members. Nominate a nursing support team member.
Clara Ford Nursing Excellence Award
With the history of Henry Ford nursing as its foundation, the Clara Ford Awards for Nursing Excellence are bestowed annually upon seven nurses who are nominated by their colleagues. A selection committee comprising of Nurse Executives representing each Henry Ford Health System business unit selected the award winners. The nominations were blinded, without a name or business unit attached, ensuring winners are selected based solely on their merit. Learn more about the Clara Ford Nursing Excellence Award.