Nursing Research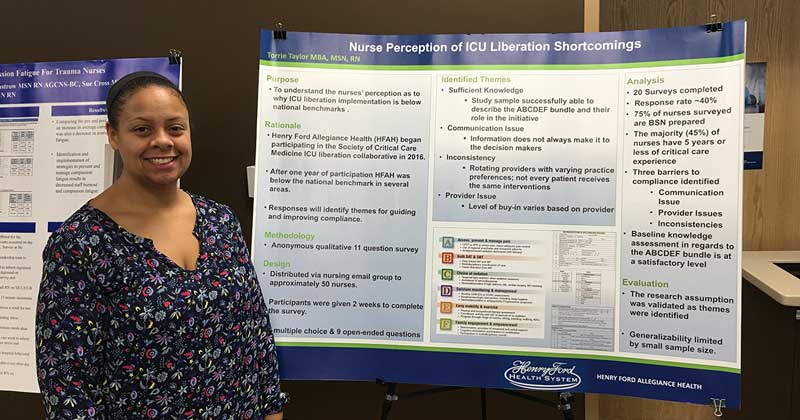 Evidence-based Practice in Nursing
Evidence-based practice is the best that nursing can give to its patients and families, and to society at large. The search for such knowledge continues with nurses. As a staff RN, working around the clock and the calendar, there is no one in a better position to evaluate patient care and outcomes, and to ask the questions that need to be asked to improve patient care and outcomes.
Nursing Research Council
Henry Ford Allegiance Health has a Nursing Research Council to help nurses through the research process. The council helps identify other co-workers who have an interest in similar topics or issues.
By asking questions and seeking answers using the nursing research process, nursing can add to the body of scientific nursing knowledge and improve nursing practice and patient care.
Annual Research Symposiums
Each year, Henry Ford Allegiance Health nurses prepare and deliver poster presentations containing original research, evidenced-based practice and quality improvement projects on a broad range of topics at regional research symposiums. Recent presentations titles include: "An Assessment of Nurse Perceptions Regarding the Acute Shortage of Small Volume Parenteral Solutions Following Hurricane Maria," "Massage in Oncology Patients Receiving Chemotherapy: Impact on Anxiety (MOCA)," "Nurse Perception of ICU Liberation Shortcomings," and "Compassion Fatigue for Trauma Nurses."