Shared Governance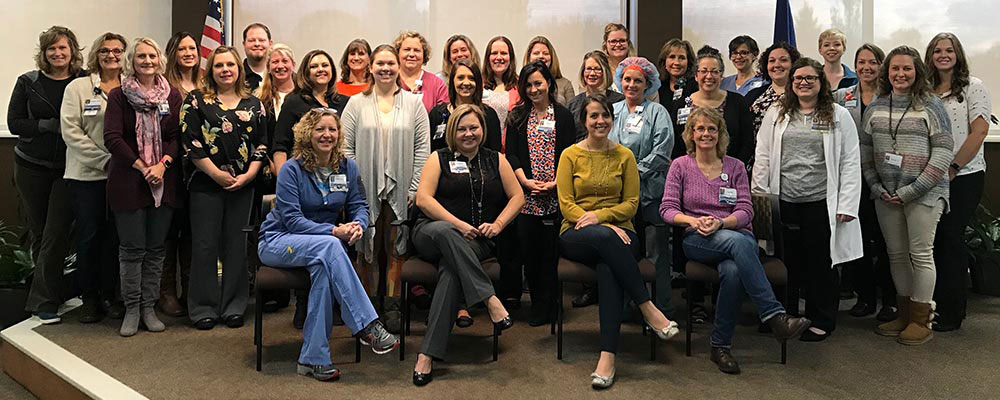 The Henry Ford Allegiance Health Shared Governance embraces the concept of shared leadership and shared decision-making, ensuring that nurses at all levels and from all practice areas are involved in decisions affecting their practice environment.
Our nursing shared governance structure, implemented across the organization, is a framework that empowers nurses with autonomy in the clinical & professional nursing practice. The program encompasses both inpatient and outpatient areas.
Shared Governance Model and Coordinating Council
Shared Governance Model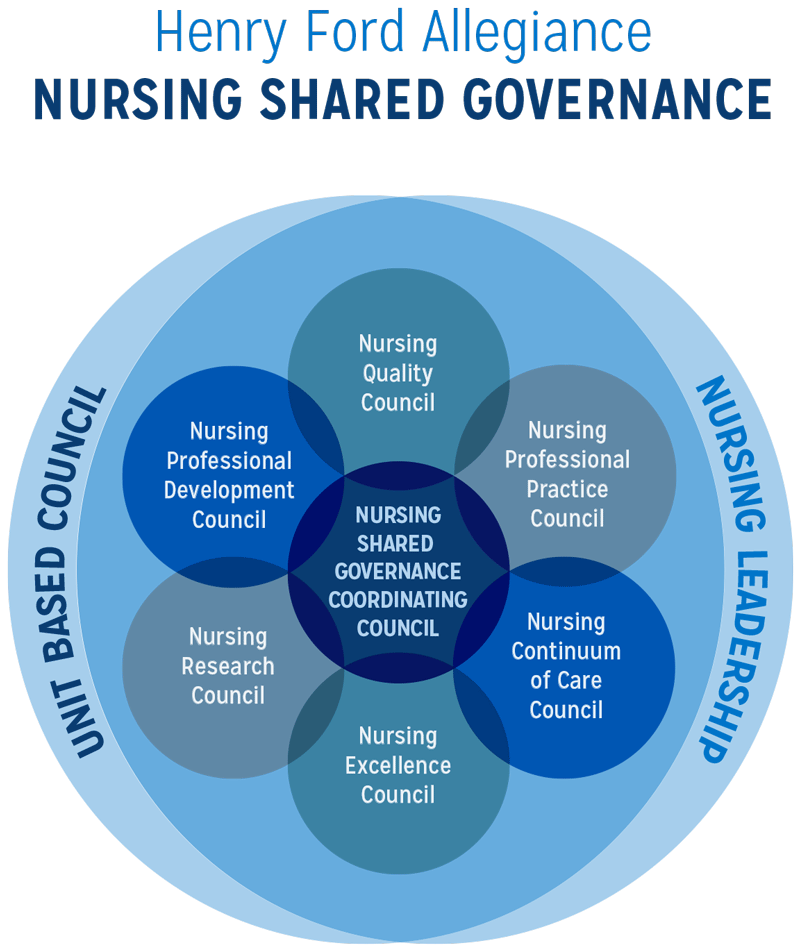 Shared Governance Coordinating Council
The Shared Governance Coordinating Council serves as an oversight, decision making committee to maintain a shared decision-making framework, provide leadership and guidance to the shared governance councils, approves system council proposals and evaluate the progress of the councils to maintain a successful and productive Shared Governance Program.
The Six System Councils
Nursing Excellence Council

The Nursing Excellence Council evaluates and enhances the nursing recognition programs while promoting the positive image of the professional nurse through these programs. The programs include the DAISY Award, the Annual Recognition Program to celebrate Nursing Professional Development, the annual Nurse Excellence Awards (NEA), and the New Honey Bee Recognition Award for Patient Care Support Staff members.

Nursing Professional Development Council

The Nursing Professional Development Council evaluates and maintains educational standards to promote nursing professional growth, development and ongoing clinical competency. These include orientation-based programs, Professional Advancement Ladder (PAL), nursing peer review program, nursing specialty certifications, hospital and unit committee nursing participation. The council also collaborates with Allegiance Health University (AHU) with learning needs and educational opportunities.

Nursing Professional Practice Council

The Nursing Professional Practice Council implements and maintains standards of clinical nursing practice and patient care consistent with evidence-based practice. These include the Professional Practice Model, new clinical products and equipment, Nursing Standards of Practice, Patient Care Delivery Model, Ethical issues related to clinical practice & opportunities, Shared Governance section of the Nursing CAP newsletter, and oversight of applicable nursing policies and procedures. This also includes identifying strategies to promote staff retention and staff satisfaction.

The Nursing Quality Council monitors the clinical, quality of the care provided by the nursing staff while assessing and ensuring compliance with established standards of care and practice. Areas of responsibility include Nurse Sensitive Indicators and Patient Satisfaction scores (HCAHPs). This also includes ensuring a Culture of Safety (workplace, National Patient Safety Goals [NPSG]). The council will serve as an oversight committee for the Fall Prevention and Wound Prevalence Committees.

The Nursing Research Council is a resource to assists nurses with the implementation of evidence-based practice (EBP) as well as mentoring staff to understand, evaluate, and conduct nursing research.

Nursing Continuum of Care Council

The Continuum of Care Council evaluates the standards of clinical nursing practice across the continuum at HFAH to assure quality patient care through all levels of the delivery of care. This council collaborates with other disciplines to meet needs of patients, including evaluation of the hand off process & readmission process. This council also helps promote nurses participation in community healthcare outreach programs.