Achieving Magnet® Designation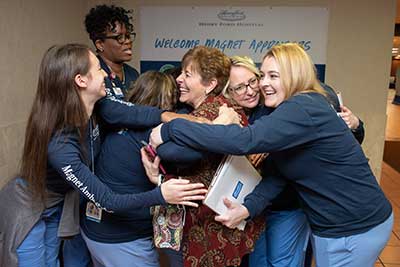 In March 2020, Henry Ford Hospital (HFH) achieved its first Magnet® designation, making it the first hospital within Henry Ford Health System to receive this recognition.
Magnet® Appraiser Site Visit
From Jan. 14-16, 2020, a team of four Magnet® appraisers and one appraiser in training visited Henry Ford Hospital to learn about the extraordinary Nursing care provided to patients. This was the final step in the journey to Magnet®.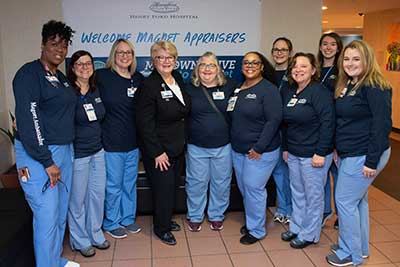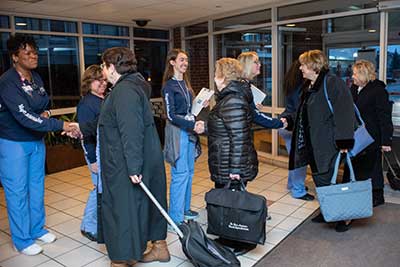 Phone Call with the Commission on Magnet®
On March 20, 2020, HFH Nursing leadership had a scheduled phone call with the Commission on Magnet to hear their decision regarding the hospital's designation. Team members from across the hospital were on the line awaiting to hear if it was good news.

And it was good news! Henry Ford Hospital was officially designated as a Magnet® facility!
Raising the Magnet® Flag
As an exciting way to celebrate this huge accomplishment, a special ceremony was held outside the hospital Main Entrance to raise the Magnet® flag. Nurses cheered with pride as the flag was raised for the community to see.
Passing out the Magnet® Pins
Finding a new way to celebrate the nurses for this outstanding achievement included the distribution of Magnet® pins that they could proudly wear on their badges. The Magnet® team went from unit to unit thanking each nurse for their work and presented them with their pin.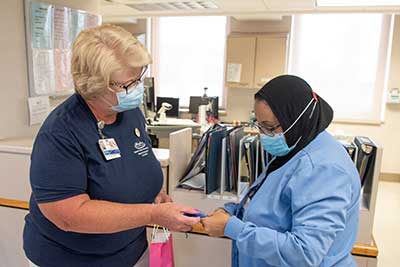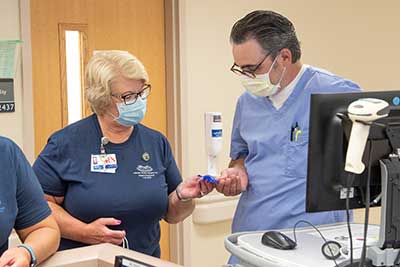 Installing Magnet® Banners
The final step in honoring HFH nurses was installing a large banner at the Main Entrance to the hospital and several banners on the light posts leading up from the street to the entrance. These banners speak to the extraordinary nurses who work at HFH and tells the community what to expect as they enter the hospital.