Empirical Outcomes

Nurses at Henry Ford Hospital (HFH) are committed to providing safe and quality patient care. Our professional practice is based on achieving the best patient outcomes by always striving to improve.
Through our quality work, we continue to make improvements in nurse and patient satisfaction as well as in clinical outcomes. Our nurses always aim to create an environment of evidence-based care, clear clinical guidelines, documentation and measurement.
Champions preventing infections
MICU CPI team works to eliminate hospital acquired infections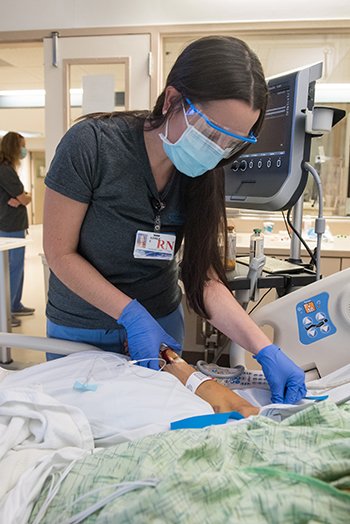 In June 2020, Henry Ford Hospital (HFH) implemented a new team called the CPI (Champions Prevention Infections) Team in the medical intensive care units (MICU) that would aim to prevent infections, including CLABSI (central line-associated blood stream infection) and CAUTI (catheter-associated urinary tract infection).

The 11 member CPI team is nurse-driven with frontline representation from each MICU pod and offers 24-hour coverage. Some of the main responsibilities include:
Round on new admissions
Support nurses on infection elimination through education, problem solving and communication
Evaluate central line necessity and place ultrasound guided peripheral IVs to enable removal
Evaluate blood culture orders for strict adherence to the Diagnostic Stewardship Guidelines
Expedite the collection of blood cultures
Draw all blood cultures in the MICU
Evaluate urinary catheter necessity
Perform routine IV and urinary catheter audits
Promote infection prevention initiatives and research
"Literature shows that a dedicated team is the most effective way to decrease infections," said Cathy Jackman, MSN, RN, ACNS-BC, MICU clinical nurse specialist.
"After beginning this in MICU Pods 5 and 6, we decided to create a team of frontline nurses from all the MICU pods who would be dedicated to preventing infections."
Since the team was implemented, it introduced a new way of thinking for both nurses and physicians. After a few months, change was being seen. CPI members, Aimee Chemawski, BSN, RN, Pod 4 and Kelli Deluca, ADN, CCRN, Pod 6, have both seen a culture shift within the unit.
"Now that we've been auditing consistently, staff are more open, listening to our recommendations and realize we're there to help," said Chemawski. "We've also noticed that physicians are ready to explain their orders which has also decreased the amount of orders as they're stopping and thinking about them in a different way."
In addition to a positive culture shift, "It has helped open a dialogue amongst our nursing colleagues as to why blood cultures are done and if they are really needed, since they can pose a risk to our patients," explains Deluca. "Our leadership has also been a huge support throughout the process, knowing that we have their support."
The team plans to assess the data in the coming months to see how the change impacts the hospital's infection rates. If it proves to be successful as anticipated, this could be an initiative that will be implemented hospital-wide.
Improving patient satisfaction during a pandemic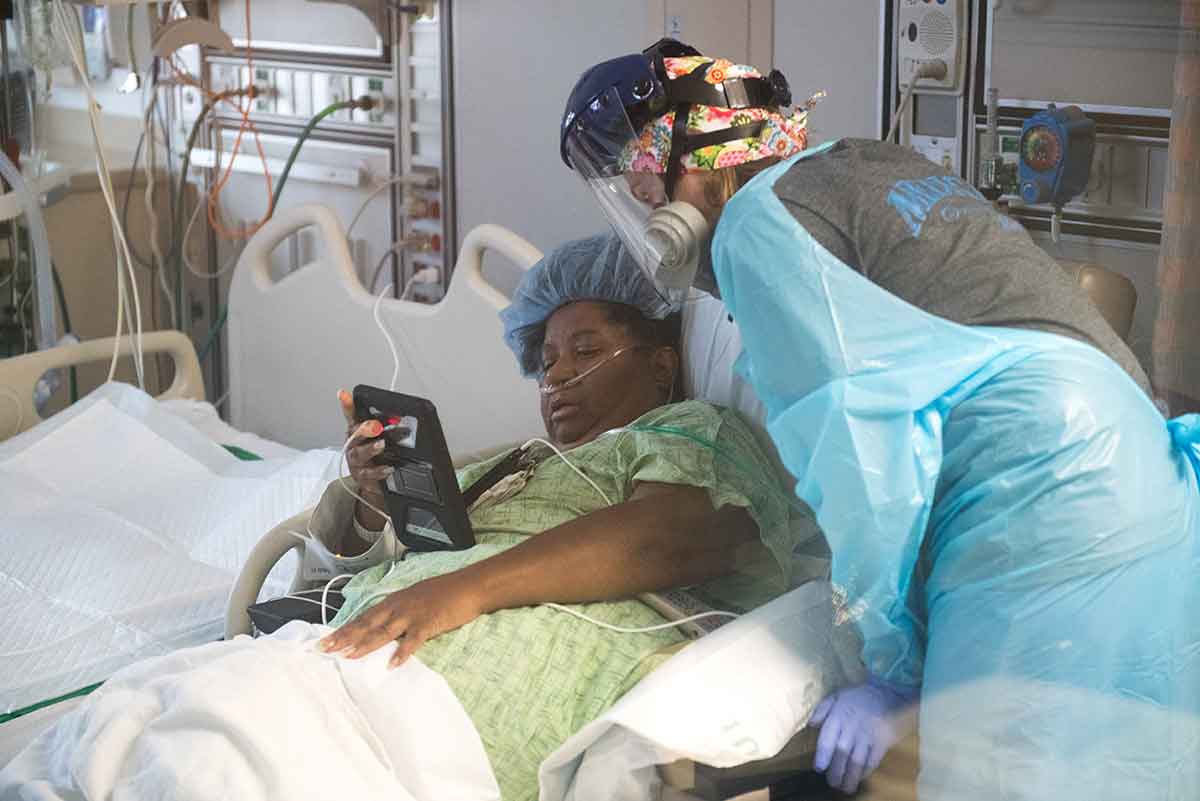 As the COVID-19 pandemic surged, many safety protocols were put into place for everyone's protection. This included restricting all visitation at Henry Ford Hospital (HFH).
Since visitors were no longer allowed inside the building, it was difficult for patients as they were now alone and did not have the in-person support from loved ones. HFH nurses stepped up to the plate and began going the extra mile to serve as their patients' support system.
As a result, HFH began implementing ways to keep in touch with patient families and loved ones so they were aware of the patient's progress and plan of care. HFH Nursing increased their communication efforts by providing updates to family members twice a day, once on day shift and once on night shift.
"Our nursing team did so many things to demonstrate courage and compassion to our patients and families," said HFH Care Experience Director Julie Johns, LMSW, ACSW. "The increased communication helped to bridge the gap during our visitor restrictions and keep patients and families informed and connected."
The increased communication included deploying iPads to each unit so they could utilize FaceTime and video conferencing during rounds. This allowed families to connect with the patient and talk with the care team. Sometimes, this technology was even used as a way for families to say their last goodbyes.
During the surge of COVID patients, HFH had exceptional patient experience scores in the Likelihood to Recommend category. With a monthly goal of 73% for patients recommending Henry Ford to family and friends, HFH saw percentages reach up to 78%. This was higher than the data in 2019.
"In the most crucial times of the pandemic, Nursing communication remained strong and steady," said Johns. "Our nurses' commitment to key behaviors of listening, courtesy and ensuring that patients and families understood the care being provided, kept everyone focused, organized and successful." The Nursing Communication Domain surpassed the goal of 80.4 during the pandemic.
During the pandemic, it was clear that the most important thing HFH nurses could do was be there for the patients with total commitment to giving them care and step in as a family member. Patients felt less alone as the HFH team came together to provide consistent and compassionate care during their stay.
"Moving forward, we are looking at how we can continue this increased communication practice in routine times so that when visitors are in the building they can focus more on their loved ones and not just look for answers to care questions," explained Johns.