Exemplary Professional Practice
Our Professional Nurse Practice Model (PNPM) is the framework that describes our practice, structure, values, collaboration, communication and professional development.
Henry Ford Hospital (HFH) nurses partner with patients, families and interprofessional teams to achieve exemplary professional practice daily using evidence-based practice and professional standards.
Proning to save lives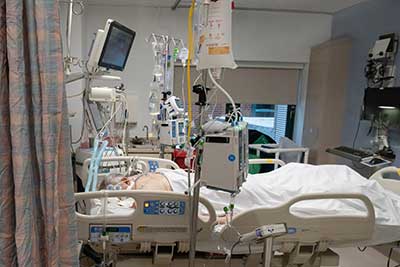 As more COVID-19 patients were being admitted to Henry Ford Hospital (HFH), new information was coming out daily on how to best treat them. Researchers from around the world were working to find the most successful treatments and cures for the virus.
One process that was showing positive patient outcomes was proning. This process involves turning a patient with precise, safe motions from their back onto their stomach, so they are lying face down. It is typically done in intensive care units for patients in respiratory distress. Research has shown that proning a patient can improve oxygenation into the body when other methods have not worked.
Some patients who were not intubated were also instructed to self-prone and turn onto their stomachs. Doing so could help improve their oxygenation to hopefully avoid intubation or worsening conditions.
"Proning is typically a low occurrence and high-risk process," explains MICU Pods 5 and 6 Clinical Nurse Specialist Cathy Jackman, MSN, RN, ACNS-BC. "It takes skill to do it safely and takes about six people."
Jackman explained that the six people usually include a respiratory therapist, who ensures the airway is secure, and a group of nurses who all take part in flipping the patient.
"This technique was proving successful and at one point, almost every COVID-19 patient who was intubated was proned," said Jackman. "At the peak of the surge, we were proning up to 25 patients per day."
For most nurses, this was new as only critical care nurses were used to proning patients. To assist with the high need of patients who needed to be proned, a Prone Team was created. The team was consulted each time a unit had patients who needed to be repositioned.
"To create the Prone Team, employees whose usual jobs were put on hold, were redeployed to join the team," said Jackman. "Surgical Services and Rehab Services staff were trained to prone by performing it on each other so they could personally feel what it was like for the patients."
For Kelsey King, OTRL, an HFH occupational therapist, being on the prone team was a unique experience. "I was a part of the midnight team and was able to collaborate with nurses from the Post Anesthesia Care Unit (PACU), a group of people I normally wouldn't interact with," said King. "We were able to bring both of our perspectives together to safely transition patients to their stomach."
Proned patients typically stayed on their stomach for 16 hours then they were flipped back over for eight hours. Sometimes patients needed to be re-proned and other times it was successful right away.
"We typically saw anywhere from five to 30 patients in a 12-hour shift and worked alongside nurses, respiratory therapists and CRNAs to ensure our COVID patients were safe," said King.
Thanks to the interprofessional collaboration between Nursing, Respiratory Therapy and Rehabilitation Services, proning was highly successful in helping COVID-19 patients.