Transformational Leadership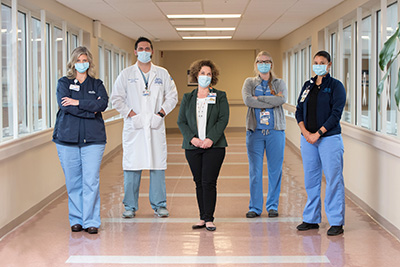 Henry Ford Hospital (HFH) nursing leaders consistently work to empower our nurses so they can make positive impacts on patients every day. Our leaders play an essential role in our hospital's success by transforming values, beliefs and behaviors to meet future needs.
Our leaders engage their teams in innovation, research and evidence-based practice to improve clinical and organizational outcomes. In turn, the clinical nurses transform bedside care.
HFH senior nursing leaders advocate to create mutual respect and support new ideas centered around improving the patient and family experience. Direct access is available to the chief nursing officer, so our nurses know their voices are heard and their input is valued.
Adjusting to the pandemic
Units transform to take care of COVID-19 patients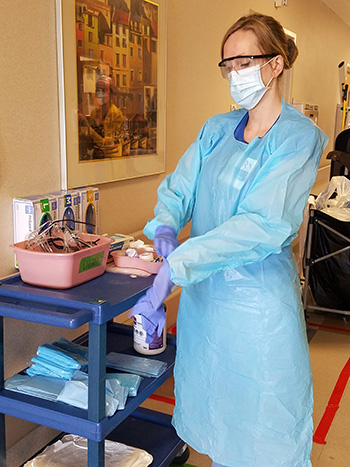 In March 2020, the COVID-19 pandemic began its sweep through Michigan. Henry Ford Hospital (HFH) was rapidly receiving COVID positive patients who were critically ill and needed treatment as soon as possible.
The HFH special pathogens unit, F6 helped lead the charge. The team members on F6 are well trained and educated on how to treat patients with viral infections.
"We knew we'd likely be the first unit to receive COVID patients, so we quickly started implementing new processes as the CDC and hospital leadership were giving us direction," said F6 Nurse Manager Lynsey MacDonald, BSN, RN, CMSRN. "My team was retrained on droplet plus precautions and PPE so that they could then train other units."
Working closely with Infection Control (IC), the F6 leadership team conducted PPE training to teach staff how to don and doff their protective gear. The team also created a short video on how to do so which helped train everyone. As a result, the F6 team members were able to help train other units as they began taking COVID positive patients.
"Our partnership with nursing units was critical from an Infection Prevention and Control perspective," explained Eman Chami, manager, Infection Control. "We relied on each other in order to operationalize processes and our team provided expertise on the quickly changing requirements while Nursing offered their perspective on workflow and feasibility."
"We worked together to tape off floors, set up PPE stations, train staff and most importantly, provided time for staff to ask questions and talk about any concerns."
This partnership between IC and Nursing helped build confidence and allowed the nurses to feel safe and comfortable as new information was coming out daily. MacDonald found that once team members were trained with the new PPE requirements, it gave them the confidence and comfort to care for these patients.
"I6, which is a neuro step-down unit, was transformed overnight into a COVID intensive care unit," said MacDonald. "Since I'm not an ICU nurse, it was more difficult for me to help with the type of care they were providing but I was able to help set them up for PPE and other process implementation to keep them safe."
Thanks to the efforts of many, almost all 31 inpatient nursing units were successfully transformed to care for COVID patients.