Teresa (Terri) Carbone, MS, RNA, CPHIMS
Director, Surgical Services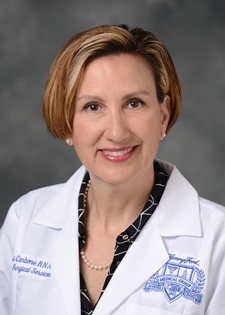 As Director of Surgical Services, Teresa (Terri) Carbone, MS, RNA, CPHIMS oversees the Henry Ford Hospital (HFH) PreOperative and Post Anesthesia Care Unit (PACU), Operating Room (OR), Surgical Scheduling and Preadmission Testing (PAT) as well as Perfusion Services. She collaborates with the medical directors, surgeons, clinical staff and more to develop, implement and evaluate programs and services that support safe and quality patient care delivery.
Before HFH, Terri was employed as a Certified Registered Nurse Anesthetist and was also the Administrative Director of Surgical and Anesthesia services at Bon Secours Cottage Health Services and Providence Hospital. She most recently worked as an Associate Principal with The Chartis Group, specializing in clinical informatics leadership, strategic planning and health information technology consulting.
Terri obtained a Bachelor of Science in Nursing from the University of Toledo, a Master of Science in Anesthesia from Wayne State University, and a post-graduate certificate in Clinical Informatics Leadership from the University of Colorado.