HFH Nursing Research and Evidence-Based Practice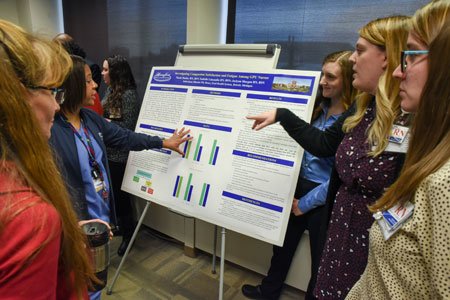 Henry Ford Hospital (HFH) nurses approach patient care with a spirit of inquiry. It's an approach where nurses are continuously evaluating care practices and questioning how care can be improved for optimal patient outcomes. Several resources are available for nurses focused on improving care through the HFH Center for Nursing Research and Evidence-Based Practice.
The Center is located on the hospital campus and is staffed by two doctorly-prepared nurse scholars, Therese B. Mianecki, PhD, RN, and Cathy Draus, DNP, ACNS-BC. The center provides mentorship and guidance for nurses engaged in research or evidence-based practice (EPB) initiatives. External collaborative research is also supported.
Additionally, the Nursing Research and Evidence-Based Practice Council exists as a forum for nursing research and EPB. The members meet monthly to discuss and provide support for clinical nursing research efforts. The council also sponsors various research-related educational events, including an annual research conference, lunch-and-learn events and other research-focused continuing education presentations. Competitive internal grants sponsored by the Rachel Hoffman Foundation are offered annually for nurses who need funding for their in-hospital research.
The HFH Center for Nursing Research and Evidence-Based Practice has also developed research and e-toolkits that are available on the hospital website. The System's Sladen Library offers many resources and support services for proposal development and manuscript writing as well as research department data abstractors, biostatisticians and other support services are located.
These resources are available at HFH to assist both new and experienced nurses with the research process, to help them pursue their research interests, develop professionally and add to the science of nursing. Evidence-Based care is a priority at HFH, and support is there for nurses as they work towards meeting professional research goals and improving patient outcomes.