Professional Nurse Development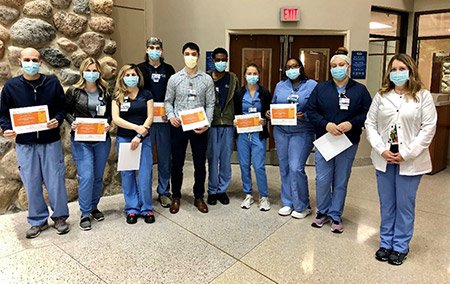 Professionalism is a belief system in which members have shared competency standards and ethical values. In nursing, it is an essential ingredient in achieving a healthy work environment, which allows for safe patient care and a superior experience, high quality outcomes and team member satisfaction. Activities that promote professionalism include advancing one's own education and attaining specialty certification.
Opportunities for professional development at Henry Ford West Bloomfield Hospital (HFWBH), include the Professional Nurse Advancement Program (PNAP), tuition and specialty certification reimbursement, the Nurse Residency Program (available to all new graduate nurses), and additional continuing education opportunities.
Professional Nurse Advancement Program (PNAP)

PNAP is the professional development ladder for clinical nurses who work a minimum of 20 hours each week with 50 percent of the time in direct patient care. The ladder is comprised of four levels, with specific eligibility criteria for each. The purpose of PNAP is to:

Attract, engage and retain highly qualified clinical nurses
Recognize the contributions and achievements of the clinical nurse
Encourage and develop a culture of life-long learning and professional growth
Foster interprofessional collaboration and teamwork


Deborah Brennan, DNP, RN, RNC, NE-BC
Nursing Excellence and Magnet Program
Nursing Development and Professional Practice
Henry Ford West Bloomfield Hospital

HFWBH's Nurse Residency Program provides recently graduated nurses the opportunity to develop the critical thinking skills, knowledge and abilities of a new nurse. This residency supports development and mentoring of new nurses during their first year of practice helping them with a smoother transition from advanced beginner nurse to competent professional nurse in the clinical environment.

New nurses who participate in the Nurse Residency Program will benefit from:

Preceptors with knowledge of the transition to practice program and new graduate nurses
Mentored clinical relationships with resident facilitators and supportive preceptor nurses
Structured educational experiences designed to develop clinical reasoning and competence in clinical nursing practice
Membership in a supportive cohort that allows for professional growth in a safe, protected environment
The opportunity to gain experience in clinical practice in an environment committed to learning
Salary compensation and a defined benefit package as determined by the hiring organization

Continuing Education Offerings

HFWBH is committed to offering continuing education credits across all levels of Nursing. Below is an overview of current professional education opportunities:

Nursing Grand Rounds – Provides nurses a forum to share clinical expertise and experiences, nursing best practices and other topics of interest that help improve patient outcomes and experience and recognize each nurse's unique contribution to the profession. Currently, HFWBH nurses have the opportunity to learn to build resilience through self-care strategies.
Echo AR Training – EchoAR is an augmented reality training platform that utilizes immersive, next-generation technology to simulate the functional deficits associated with conditions such as advanced dementia to train more empathetic and effective caregivers.
Tips and Tools for Pain Management – The program provides information about pain management, pharmacologic and non-pharmacologic pain management approaches and identifies the nurse's role in treating and managing a patient's pain.
ASPAN Mosby's Orientation to PeriAnesthesia Nursing – This educational opportunity was developed in collaboration with the American Society of PeriAnesthesia Nurses (ASPAN) and MOSBY to help nurses gain confidence, maximize results, minimize complications, and promote optimal patient outcomes.
ENA Emergency Nursing Orientation – This course offers a comprehensive, evidence-based solution for emergency nursing, supporting new and experienced nurses in providing competent care. It is framed specifically around emergency care and outcomes and ensures that emergency nurses have the knowledge and skills necessary to provide safe and competent care to patients.