Internal Medicine Residency Program Overview
The Hospital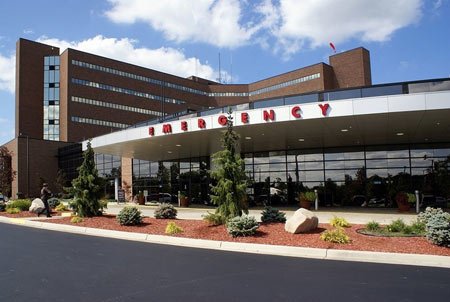 Originally called W. A. Foote Hospital, Henry Ford Allegiance Health is a 420-bed health system that has served south-central Michigan for close to 100 years. We are one of the biggest hospitals in the area and patients from surrounding counties are generally seen here first.
We are a Level II Trauma Center and our emergency room that sees about 90000 patients annually, has 60 private treatment rooms. We have 80 closed beds with ICU capacity.
Our Medical Oncology and Radiation Oncology programs are part of the Henry Ford Cancer Institute.
Primary health services for the underserved, regardless of their ability to pay, are provided through the Center for Family Health.
The program
The Internal Medicine program was established in 2015. Our program has traditionally accepted seven residents every year and 2019 marks our first year of taking eight residents. We hope to continue expanding our class every year.
You can also find us on Twitter for more updates on the program and resident life at Allegiance. Follow us @HFAHIMResidency
A good fit
We are proud of the cultural diversity that our residents bring to our program. Our residents are leaders, thinkers, and problem solvers. We are looking for candidates who are teachable, adaptable, and most importantly, hard-working. Our program is like a family and we want candidates who can communicate and work well with different personalities.
Why us?
Ample pathology and patient volume with attendings who are committed to providing quality medical education rooted in scientific evidence
With no fellows or institutional hierarchy, residents get to work with attendings closely as a team and have the unopposed opportunity to perform a variety of procedures.
Being part of a smaller program offers the advantage of individual attention and mentoring. Our residents work directly with attendings in small, cohesive teams. In the hospital, you will also work in close proximity with residents from the other programs and develop a strong camaraderie during the years of residency.
In 2018, we opened the Centre for Health Innovation and Education (CHIE) where we run Megacodes and simulations.
We are affiliated with MSUCOM. Medical students are part of our care teams as well and residents are expected to teach during bedside rounds.
We are a fairly young program and residents get a chance to be very involved in building the program further. Our residents shape the culture of the program.
Resident Services:

Concierge services: Need to pick up your laundry? Need someone to get your groceries? Have to drop off mail/ packages? Our concierge services are there to help.
Employee Assistance Program- Residency is tough and we understand. Our organization offers confidential counseling services to any resident who needs it.
PRIDE employee support group for LQBTQIA+ employees and allies
24-hour Wellness Centre membership