Transitional Year Residency
Mission: Our mission is to prepare interns to become productive, compassionate providers who continue to care about their patients and community as the move on to further training. The focus on the community and its health is a core for our health systems mission and to how we educate our residents.
Aim: We offer a strong basic clinical program with exposure to a large variety of pathology over a wide age range. There are many opportunities to work with a resource challenged population. Residents completing this program will be able to logically develop a plan to assist our patients to better health, a healthier lifestyle, and understand how the needs of a community can affect health care delivery.
Overview: The Transitional Year is an opportunity for a physician to gain further medical knowledge, ability to manage patients, and confidence in their abilities. Our TY's are well integrated into the hospital and other residency programs. You are given the same opportunities as the other interns. Our goal is to have you be a confident well-developed physician that is ready to go onto to your future residency.
In addition to the usual rotations, we also have all TY's complete a month of Quality Improvement. This is an organized lecture and work month that allows you to develop and work on a project. These can then be presented at our Research and Quality Day late in the academic year.
As each future residency program that requires a TY year expects different rotations, we are well acquainted with these and build your schedule accordingly. Please see our Sample Transitional Year Curriculum. Please note, that due to the requirements of the Ophthalmology Residency College for a Transitional Year, we cannot accommodate Ophthalmology candidates.
Program Contacts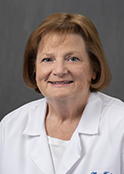 Sharon Rouse, D.O.
Program Director
Tia Reau
Program Coordinator
Phone: (517) 205-7164