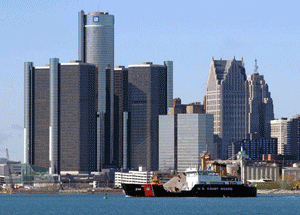 Metro Detroit is a great place to live and work. Building on the past glory of Motown and automotive victory, Detroit now has three new casinos, a Riverwalk and the new Comerica Park for the Detroit Tigers and Ford Field for the Detroit Lions.
Downtown's Greektown is a hopping zone for nightlife and dining while the Woodward Avenue Theater District is a high-energy street for performance art. The birthplace of Motown music (the Motown Historical Museum is a must), techno and countless major musicians, Detroit still has the country's top live music venues. Soak up Detroit history at the central Hotel Pontchartrain (site of an old French fur trading fort on the Detroit River) while experiencing the new Detroit.
Southeast Michigan has something to offer everyone. The Detroit metropolitan area has a wealth of big-city attractions.
Great sports
Detroit has some of the best professional sports (and fans) in the country…



Great culture & entertainment
Detroit's entertainment is eclectic, ranging from live performances at the lovingly restored and glamorous Fox and Gem Theatres, to the historic The Henry Ford in suburban Dearborn.
Detroit is home to one of the largest theatre districts west of New York. The Detroit Institute of Arts is the fifth largest art museum in the country – known for its world-class collections, and the Museum of African American History is the largest of its kind in the world. Classical music buffs can hear the Detroit Symphony in the acoustically superb Orchestra Hall in Detroit or under the stars at the summertime Meadow Brook Music Festival in suburban Rochester Hills. The Detroit International Jazz Festival at the riverfront Hart Plaza is a yearly Labor Day weekend offering, with other music festivals for country-western and blues fans held earlier at the same site. Detroit's Greektown is a lively downtown district, and the city's Eastern Market is a thriving open market. Both offer plenty of opportunity for people-watching, and excellent food.
This region has something for the whole family to enjoy - world-class museums, exciting casinos, professional sports teams, fantastic shopping and great restaurants suited to all tastes.
Just check out some of these attractions...
This is just a sampling of what Detroit has to offer. And if that's not enough, the Detroit metropolitan area is surrounded by Great Lakes and great times in beautiful outstate Michigan and Canada. More than 400 lakes are within an hour's drive, along with a network of parks offering swimming, boating, camping, fishing and hiking.
Michigan – Great lakes. Great times.
Thousands of inland lakes
More public beaches than Hawaii
More shoreline than the Atlantic seaboard
More public golf courses than any state in the country
Numerous ski resorts
An interstate highway system that puts the outdoor glories of both peninsulas of Michigan within convenient reach
The nation's leader for new business expansion
Top rated for quality of life and affordability
Year-round activities – with four distinct seasons
Nearly 100 state parks
International connections
An additional benefit of living in Michigan (particularly the Detroit area) is its proximity to Canada. You're just a bridge or tunnel away from another country. The world-renowned Stratford Shakespearean Festival is only a 2 1/2-hour drive away through the beautiful Ontario countryside, while exciting Toronto is only four hours away, accessible by modern freeway or a picturesque train ride departing from Windsor, Detroit's Canadian neighbor.