Emergency Medicine Schedule
Emergency Medicine Residency
PGY1
This first year is designed to give the resident a foundation for building the knowledge and skills critical to Emergency Medicine by providing clinical experience that emphasizes the recognition, evaluation and management of a broad range of disease processes. The focus is on developing a strong clinical background in Emergency Medicine, supplemented by specific training in Internal Medicine, Pediatrics, Orthopedics, Neurology, Obstetrics and Anesthesiology.
Emergency Medicine Orientation Month: The first year begins with an orientation month, during which residents are assigned a reduced clinical load in the Emergency Department to allow attendance at lectures, labs and skills sessions. During this month, residents also certify in ATLS, PALS and receive training in essential emergency procedures.
Emergency Medicine: Three months under direct supervision of emergency medicine faculty to gain experience in the management and stabilization of medical and traumatic emergencies. Residents work with both adult and pediatric patients at Henry Ford's Emergency Department.
Internal Medicine: One month on the inpatient Internal Medicine Nephrology service.
Neurosciences: One month on either the Neurology, Neurosurgery or Neuro-ICU service, developing neurologic diagnostic and management skills.
Orthopedic Surgery: This rotation combines experiences in orthopedic trauma, outpatient orthopedics and sports medicine clinics.
Surgical Intensive Care Unit: One month in the HFH SICU caring for critically ill surgical patients and learning invasive procedures and monitoring.
Obstetrics: One month learning to manage acute problems of pregnancy and gaining experience in labor and delivery.
Adult Anesthesiology/US/Pediatric Emergency Medicine: One month is divided between two weeks in Adult Anesthesiology and two weeks in a combined experience in ED ultrasound and Pediatric/Urgent Care Emergency Medicine. On this rotation, residents work directly with the anesthesia staff, developing the art of endotracheal intubation and the use of sedative and paralytic agents. Residents also spend time one-on-one with EM US credentialled staff physicians.
Plastic Surgery: This rotation provides residents with experience in wound management and plastic surgery techniques, as well as the evaluation and management of hand and facial emergencies.
Pediatric Emergency Medicine (Children's Hospital of Michigan): One months at Children's Hospital of Michigan (CHM), the primary pediatric ED of the Detroit Metro area. Residents will be exposed to a variety of presentations of medical and traumatic conditions.
PGY-2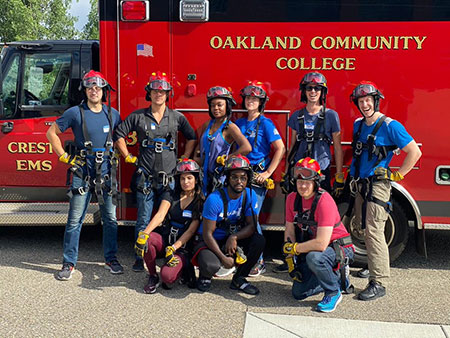 In the second year, emphasis is directed toward developing skills necessary for efficient and competent clinical practice in addition to expanding knowledge specific to Emergency Medicine and Critical Care.
Emergency Medicine - Adult & Pediatrics: Nine months of an integrated adult and pediatric curriculum. During these months, the residents spend three weeks in the adult Emergency Department where they have primary responsibility for emergent procedures and gain increasing responsibility for patient care, stabilization and resuscitation. The fourth week is spent between two Pediatric Emergency Department sites that provide 35,000 pediatric emergency visits. The first site is the Henry Ford Fairlane Pediatric Emergency Department where the focus is on community pediatrics. The second site is the Beaumont Royal Oak Pediatric Emergency Department, which is a busy suburban Pediatric ED. At both sites, residents are supervised by board certified physicians in Emergency Medicine or Pediatric Emergency Medicine. Residents also receive two 2 week blocks of vacation distributed throughout their EM months.
Cardiac Intensive Care Unit: The Henry Ford Hospital CICU provides exposure to patients with advanced heart failure, acute coronary syndromes and serious arrhythmias, as well as various cardiac support devices such as AICDs, pacemakers, aortic balloon pumps, Left Ventricular Assist Devices (LVADs), etc.
Medical Intensive Care Unit: This month develops residents' skills in evaluating, monitoring and treating complicated critically ill patients while sharpening procedural skills. HFH has one of the largest ICUs in the country and provides an unparalleled educational experience.
Pediatric ICU (Children's Hospital of Michigan): The large CHM PICU cares for children with a wide variety of medical and traumatic illnesses, as well as those with congenital cardiac diseases. Our residents have responsibility for patient management and receive training in pediatric critical care procedures.
PGY3
The third year emphasizes further accumulation of knowledge specific to Emergency Medicine, while developing leadership skills through increased responsibility for resuscitation, major procedures, patient flow, administrative decisions and the supervision of medical students.
Emergency Medicine - Adult & Pediatrics: This Emergency Medicine experience consists of seven months of an integrated adult and pediatric curriculum, where residents will spend three to four shifts per month caring for pediatric patients and the remainder of their shifts taking care of adult patients. All shifts are at the Henry Ford Hospital ED. During these seven months -, senior residents assume the role of medical and trauma team leader for emergency resuscitations during which they have primary responsibility for the efficient management of critically ill and injured patients.
Intensive Care Selective: Senior residents complete an intensive care experience of their choosing in one of our Medical, Surgical, Cardiac, Neonatal or Neurosurgical ICUs. They may also choose to rotate in the Burn ICU or the Pediatric ICU at Children's Hospital of Michigan.
Pediatric Selective: Residents' pediatric skills are further augmented with a required month of a Pediatric Selective. During this month, residents may select a rotation in Pediatric Emergency Medicine, Pediatric Anesthesia or another pediatric focused rotation.
Electives: Residents have three elective months in their senior year and may choose from a broad selection of experiences. A few examples of electives include: EMS, Ultrasound, Early Intervention Team (ED critical care), Administration, Teaching, Toxicology, Sports Medicine, Hawaii, International EM.