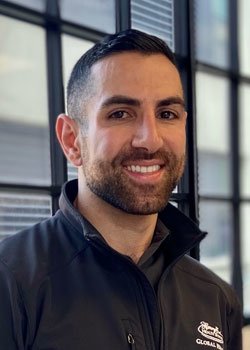 Tony Eljallad is a Senior Project Manager within the Henry Ford Global Health Initiative team. Tony is currently working on phase three clinical trials for two COVID-19 vaccines as well as mobile COVID-19 testing projects within the City of Detroit with a focus on addressing health disparities. During the start of the COVID-19 pandemic, Tony worked with the Henry Ford Central Incident Command focusing on COVID-19 data management and analytics.
Tony sees technology as a tool to enrich our lives and empower us to do more. Technology and continuous improvement are his points of passion. He believes healthcare innovation is key to the future health of the entire population, especially with the increasing need to address social determinants of health. "The world is a series of dots that have yet to be connected, technology exists to connect those dots." -Tony Eljallad
Before the COVID-19 pandemic, Tony was a project manager for several public health initiatives that focused on HIV and LGBTQ health and diversity efforts across the health system. Tony has led projects that leverage technology and data to achieve goals.
Tony earned his master's in public health (MPH) from Kent State University and his bachelor's degree in Political Science, Information Technology Management, and Geographic Information Systems from the University of Michigan-Dearborn. He is also a veteran of the Michigan Army National Guard.
In his free time, Tony's life consists of his Tesla, his DJI drone, travel, and fitness.