Virtual Concierge Coordinator
Henry Ford Health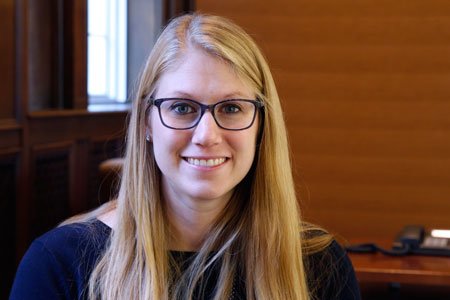 Carey joined Henry Ford Health in 2017 to take on the brand-new role of Virtual Concierge Coordinator for the new Supportive Oncology Services division of Henry Ford Cancer. It is an exciting time for cancer care at Henry Ford Health, and Carey is right in the thick of things helping to develop a web presence and cutting-edge resources for cancer support services with the input of providers and patients. Helping people has always been a passion of hers, and there are many opportunities to do just that in Carey's new role.
Carey is a native of the Detroit-Metro area and attended the University of Michigan where she received her BA in elementary education in 2010. She taught kindergarten and preschool for five years before moving to Madison, WI in 2015 to work at EPIC system, where she specialized in provider documentation and was project manager of an upgrade for SmartSets. Through her training and work there, Carey became passionate about innovating EMRs and other patient-facing resources to be accessible and user-friendly. This brought her back to Detroit where she joined Henry Ford Cancer.
In her free time Carey enjoys reading, playing with her dog, crafts and upcycling furniture, and hanging out with her family.