Resident Physician
Department of Dermatology, Henry Ford Hospital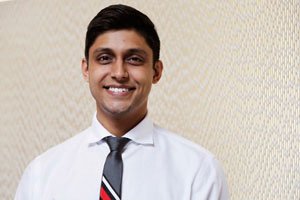 Farhaad's parents, a computer engineer and a physician, inspired him to spend his life enjoying the interweaving and overlapping of the two fields. Farhaad took an early interest in both software design and healthcare, and majored in biomedical engineering in college before obtaining his M.D. at the Medical College of Virginia.
Farhaad finds the ultimate happiness taking care of patients at the Henry Ford Hospital Department of Dermatology, but when he's not seeing patients he's using innovative thinking processes to improve the world of medicine around him. He often thinks of areas within his field that need better research, niches within Dermatology that would benefit from a new product, or how we can help low-income and resource-poor areas domestically and abroad. As a Davidson Fellow, Farhaad is planning to work with his team to refine their collective ideas into a product or idea that can become a wide success.