Mohammad (Arsalan) Siddiqui, M.D.
Gastroenterology and Hepatology Fellow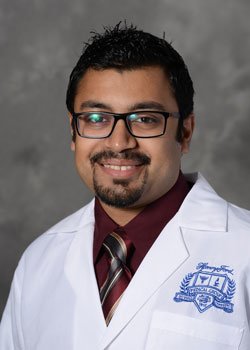 Arsalan is originally from Pakistan where he attended medical school. He moved to Detroit in 2015 and completed his residency in Internal Medicine at Henry Ford Hospital. He then stayed on to specialize in Gastroenterology and Hepatology and is currently in his final year of training.
He is a strong proponent of achieving success in healthcare innovation and entrepreneurship from recognizing the needs of people that we serve. He aspires to pursue healthcare innovation with a focus in application of Artificial Intelligence in endoscopy and achieving efficiency in work processes as well as patient communication.
Through the Davidson fellowship Arsalan wants to achieve personal growth, refinement and maturity as an entrepreneur in healthcare innovation and digital health and is thrilled by this opportunity provided by the Henry Ford Innovations Institute.
Outside of his work he enjoys spending time with family and friends, traveling, cooking, hiking and various other recreational activities.