Parking Structure Construction
The parking structure project will transform the landscape of Henry Ford West Bloomfield Hospital's campus. The project anticipates the hospital's future growth and increasing need for patient and team member parking on campus. When complete in late Spring 2023, the project will complement our vision to offer additional services to our community as part of our master facility plan.
When arriving to our campus, you will notice the major construction project taking place. Here's what you need to know:
Please give yourself extra time when coming to the hospital for appointments to ensure safe parking and on-time arrival.
As the project progresses, entrance and exit flows on campus will change. Directional signage will be posted to guide you and our security team will assist with traffic flow.
Our number one priority is your safety and the safety of our team members.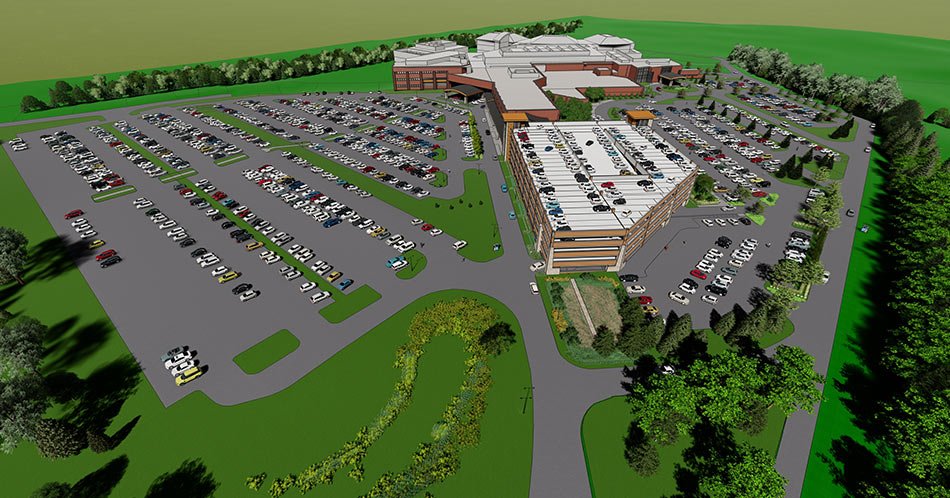 Project Description
Features:
614 parking spots
First-floor level will accommodate van parking
24 handicap parking spaces, including 4 handicap van spaces
12 charging stations for electric vehicles
Two entrances serving cars arriving from the east Main Entrance drive and from the west Emergency Entrance parking areas
Two elevator towers allow convenient access to the east Main Entrance and to the west Emergency Department
Precast concrete structure with imbedded brick masonry to match existing hospital
New covered walkway connects the new parking structure to the existing Main Entrance of the hospital
LED light fixtures for low energy use (features night-time dimming and presence detectors for energy conservation)
The top tier parking level features lighting fixtures that are completely hidden from view by neighbors
A small detention pond is added to mitigate any impact to the existing wetlands or pond areas.
Extensive landscaping will be installed to further enhance the hospital grounds.
Timeline:
Site work begins Summer 2021; construction begins late Summer 2021; completion expected late Spring 2023
Design and construction:
Architectural/engineering design by Albert Kahn Associates, Inc.
Construction management services by DeMaria