A Cooking Class Changed Her Life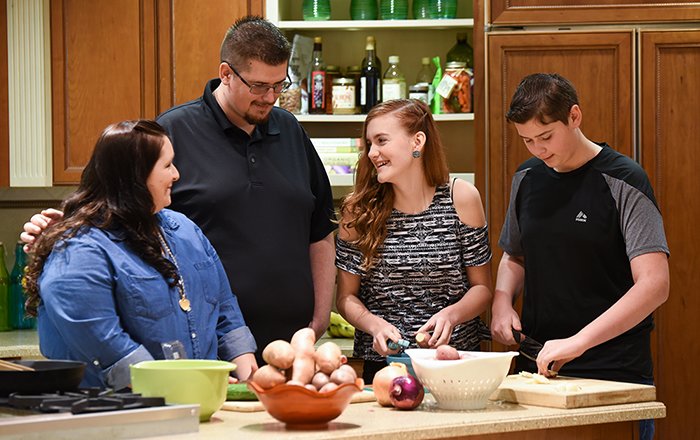 When Molly Kramer attended our Demonstration Kitchen cooking class, "Meal Prep Made Easy," she was looking for some tips for making meal times with family easier and hopefully a bit healthier, too. What she came away with was passion for healthful eating and a new outlook on ways to plan, prep and enjoy delicious meals that everyone at the table could enjoy.
Molly works as a medical assistant at the Henry Ford Medical Center – Farmington Road. After attending the DK cooking class, she shared the following feedback with us:
I just wanted to follow-up from your meal prep class. THAT CLASS WAS THE BEST!!
The nutritionist mentioned the Cooking Light meal planner website and that has changed the dynamic in our home for dinner. It's super easy, and convenient, when I go to the grocery store I pick ingredients for the week. My family is eating so much healthier…the Ninja food processor that we got for our wedding is finally being used. I have incorporated so many veggies into our meals my kids would be shocked to know that they have a secret love for zucchini that they are unaware of.
We went from peeling skin off hotdogs and chicken nuggets (and yes, you can peel skin off hotdogs...with much patience!) to eating hummus, lemon herb chicken, Brussel sprouts, protein bites, and crock-pot lasagna. All with NO SALT, might I add.
I can go on and on. I just wanted to let you know, hands down out of the handful of classes I have been to, this one has changed my life...literally. The chef was personable and really sympathized with a busy lifestyle and how with a few minutes of planning we can relieve so much stress in the week with 'What to have for dinner?!"
This I can do...I continue doing this, and we are saving money!! Who doesn't like saving money? We were spending $50 a week on carry-out, and sometimes more. Now II spend $50 a week to feed the entire family. Thank YOU THANK YOU!
Sincerely,
Molly, Steven and the picky-eating kiddos who love Brussel sprouts now! :)