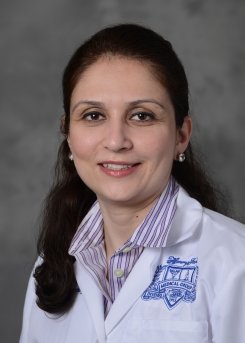 Anza B Memon, MD
Specialties: Neurophysiology, Neurology
Board Certification and Education
Board Certifications
American Board of Psychiatry and Neurology - Clinical Neurophysiology
American Board of Psychiatry and Neurology - Neurology
Education
Dow Medical College, 2005
Residencies & Internships
Wayne State University, Neurology, MI, 2015
Detroit Medical Center/Sinai Grace Hospital, Transitional Medicine, MI, 2012
Fellowship
Henry Ford Hospital, Clinical Neurophysiology, MI, 2016
Wayne State University, Neuroimmunology & Multiple Sclerosis, MI, 2011
About Me
Titles:
Program Director, Clinical Neurophysiology
Senior Staff Neurologist, Henry Ford Hospital, Multiple Sclerosis and Neuromuscular Division
Clinical Assistant Professor (FTA), Wayne State University School of Medicine, Detroit, Michigan
Care Philosophy:
I collaborate with my patients so that I can provide quality, compassionate care that works best for them and their needs. My patients are like my family and I will go above and beyond to help them.
Biographical Statement:
Dr. Memon earned her medical degree from Dow Medical College in Karachi, Pakistan in 2005. Given her immense interest in neuroimmunology and immune-mediated neurological conditions, she pursued fellowship training in multiple sclerosis and clinical neuroimmunology at Wayne State University in Detroit in 2009. She finished her clinical and research fellowship in 2011 and started a neurology residency within the same program.
After finishing her residency training in June 2015, she became interested in peripheral nerve disorders. To gain more knowledge on these disorders, she joined Henry Ford Hospital's clinical neurophysiology program as a neuromuscular fellow. She has been working at Henry Ford Health System as a senior staff neurologist, managing both immune-mediated central and peripheral nervous system diseases. She loves teaching clinical and translational research and is also a certified electromyographer.
Dr Memon, specializes in treatment of multiple sclerosis, neuromyelitis optica spectrum disease (NMOSD), myasthenia gravis, neurosarcoidosis, transverse myelitis, vasculitis, chronic inflammatory demyelinating polyradiculoneuropathy (CIDP), vasculitic neuropathies and inflammatory myopathies.
Research Interest:
Multiple sclerosis (MS)
MS cognition and fatigue
Neurosarcoidosis
NMOSD
Award and Honors:
Top Docs, Hour Detroit (2019)
Excellence in Teaching Award, Wayne State University School of Medicine (October 2018)
President Research Initiative Award, AANEM (June 2018)
Honor Roll Award for Excellent Teaching, Wayne State University School of Medicine (September 2017)
Resident and Fellow Research Recognition Award, AANEM (June 2016)
Languages
English, Sindhi, Urdu
Locations
2799 W Grand Blvd
Neurology - K-11
Detroit,
MI
48202
Henry Ford West Bloomfield Hospital
6777 W Maple Rd
West Bloomfield,
MI
48322
Henry Ford Hospital
Henry Ford West Bloomfield Hospital