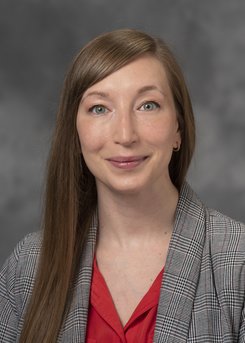 Sarah A Moore, MSW
Specialties: Behavioral Health Therapist
Board Certification and Education
Education
Wayne State University, Social Work, MI, 2013
About Me
Biographical Statement
Sarah Moore is an experienced psychotherapist and licensed social worker who focuses her practice on the treatment of adults with behavioral health conditions. She currently is part of the Behavioral Health Integration team working within primary care.
Sarah is passionate and person-centered in her care, always trying to find holistic methods and working with patients to develop healthy coping strategies to manage daily stressors and feel more in control of their body, mind, and behaviors. She also practices and teaches yoga in her spare time and is a certified tobacco treatment specialist.
Sara has worked as a therapist and case manager providing services to people in the LGBTQ+ community, people living with HIV, and supporting youth with case management services at the Ruth Ellis Center.
Sarah was trained in cognitive behavioral therapy (CBT) and received her Master of Social Work at Wayne State University in Detroit, MI.
Care Philosophy
"I believe that therapy is a gift that people can give to themselves, and that the insight and awareness gained through therapy can be priceless and everlasting. "
Locations
Henry Ford Behavioral Health
1 Ford Place
Detroit,
MI
48202