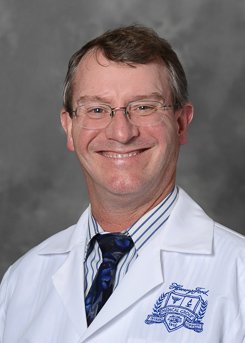 J. Mark M Tuthill, MD
Specialties: Pathology, Clinical Informatics
Services: Clinical pathology, Pathology Informatics , Pathology Senior Staff
Board Certification and Education
Board Certifications
American Board of Pathology - Clinical Informatics
American Board of Pathology - Clinical Pathology
Education
Creighton University School Of Medicine, Pathology, NE, 1992
Residencies & Internships
Fletcher Allen Health Care-UVM, Pathology, VT, 1997
Fellowship
Fletcher Allen Health Care-UVM, Informatics, VT, 1999
About Me
Title
Division Head of Pathology Informatics
Pathology Informatics Fellowship, Program Director
Biography
After completing my residency and fellowship training at the University of Vermont College of Medicine-Fletcher Allen Health Care, I worked to create and direct that department's division of pathology informatics. Active in organized medicine throughout my training and professional career, I have served as membership officer for the ASCP-RPS, delegate to the CAP-RF and AMA-YPS and resident representative to the CAP-Informatics Committee.
At present, I am a member of the CAP-Education committee, the ASCP-Informatics Council and the API leadership council as an ad hoc member. I am a charter and sponsoring member of the API and participated in the Association's planning council as well as serving as the charter membership officer. This work has given me broad exposure to the practice of pathology and laboratory medicine in a variety practice and geographic settings.
I have had experience and have developed some expertise in several areas of pathology informatics over the last ten years. These include:
Anatomic and clinical pathology laboratory information systems
Digital imaging systems for pathology practice
Computer networking, particularly hospital, wireless and mobile computing networks
Computer-based education (learning), particularly web-based multimedia
Philosophy
Providing quality patient care through the application of information technology to pathology and laboratory medicine.
Awards and Honors
Best Web Site, Advancing the Field of Pathology Through Computer Technologies, APIII, 1998
Honorable Mention, Best Departmental Web Site, APIII, 1998
Honorable Mention, Best Departmental Web Site, APIII, 1998
College of American Pathologists Foundation Informatics Scholarship, 1996
Alpha Omega Alpha, National Honor Society, 1992
Omicron Delta Kappa, National Leadership Honor Society, 1992
Cum Laude, Creighton University School of Medicine, 1992
Dean's List, University of Massachusetts, 1985
Henry Ford Hospital
Henry Ford Macomb Hospital - Clinton Township
Henry Ford West Bloomfield Hospital
Henry Ford Wyandotte Hospital