Crisis Management Training
Learn how to manage challenging behaviors in children
Our 13-week training program is designed for caregivers of children with severe challenging behaviors. The program consists of five training phases where caregivers learn skills to prevent their child from harming themselves or others during crisis situations. Goals of training are to:
Teach skills and techniques to manage challenging behaviors at home or in the community
Train caregivers in the principles of Applied Behavior Analysis (ABA) to prevent, manage and respond to challenging behaviors in any setting


Where does training take place?
Most training is done virtually in one-hour segments by Board Certified Behavior Analysts from the Henry Ford Center for Autism and Developmental Disabilities. The two segments involving personal safety training are done in-person at the Henry Ford Medical Center – Southfield facility.
Does health insurance cover training?
Most Michigan health insurance providers cover crisis management training for children under age 18 who have a diagnosis of autism spectrum disorder (ASD). If your child has not been diagnosed with ASD, ask your health insurance provider about your coverage. If these services are not covered by your health plan, ask us about private pay options.
Crisis Management Training
For more information or to register for Crisis Management Training, call
(313) 972-3050
Monday
through Friday from 7:30 a.m. until 4 p.m., or email
ABA@hfhs.org
.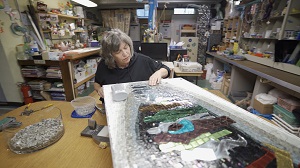 Henry Ford has commissioned 10 Michigan artists to create artwork that reflects the pandemic experiences of team members
View All News