Grateful for a Generous Donation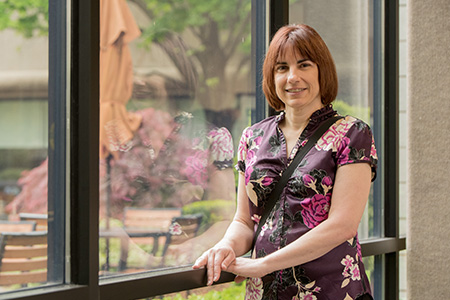 A newly-donated portable heart-lung support system is credited as the crucial component in saving the life of a 49-year old patient at Henry Ford Macomb Hospital.
Michelle Rachuk of Waterford was visiting her parents in Chesterfield Township March 9 when a series of medical events starting with flu symptoms eventually led to her heart stopping.
Ultimately, doctors at Henry Ford Macomb used an ECMO (extracorporeal membrane oxygenation) device to save Michelle's life. This vital piece of technology takes over the function of the heart and lungs when the heart has stopped or during open surgery. The device oxygenates the blood and pumps it back into the body - providing time for the organs to rest and heal.
Rachuk later met the Bedi family of Northville, who donated the ECMO machine in memory of their late father, Raj Bedi, who received exceptional care at Henry Ford Macomb Hospital.
"I'm so grateful that the Bedi family made this generous donation," Rachuk says. "I hope it saves many more lives."
The small, portable system, not typically available at many hospitals, brings technology to the bedside that traditionally is only available in an operating room. The all-in-one heart-lung support system can be rapidly deployed in the fields of emergency medicine, cardiology and cardiac surgery to restore and stabilize a patient's cardiopulmonary functions, giving physicians valuable time to save the patient's life.
"It is certain that without this device, she would not have survived," says cardiothoracic surgeon Raed Alnajjar, M.D., whose quick thinking led to Michelle being the first patient treated with ECMO at Henry Ford Macomb Hospital. "At the beginning, I didn't think Michelle was going to make it, but with the help of the ECMO machine, we were able to save her life."
Henry Ford Health is a referral center for advanced therapies, including ECMO. Adept at using ECMO since 2012 as temporary mechanical support at Henry Ford Hospital, system doctors treated 73 patients in 2018 and expect to help more than 100 patients this year. After being stabilized in Macomb, Rachuk was transferred to Henry Ford Hospital and cared for by nurses and other medical staff specially trained in ECMO support.
Her death-defying odyssey began with a positive flu and pneumonia test at an urgent care near her parents' home. Her blood glucose numbers were also very high, so Rachuk, who is diabetic, was sent to the emergency department at Henry Ford Macomb Hospital.
After developing chest pains, it was determined that Michelle needed a cardiac catherization to stent a clogged "widow maker" artery. Once in the cardiac catheterization lab, interventional cardiologist Majid Al-Zagoum, M.D., placed a stent in her occluded artery. Although the stent successfully opened the blockage, Rachuk declined rapidly.
When the blood flow was re-established in the artery, her heart stopped beating. Dr. Al-Zagoum performed CPR for almost an hour, desperately trying to revive her as her body went into cardiogenic shock. But her heart did not respond.
Thinking quickly, Dr. Alnajjar mobilized his team to the cath lab with a new piece of equipment that had arrived only days earlier. Within five minutes, they had Rachuk hooked up to the ECMO technology.
After her transfer to Henry Ford Hospital, she regained consciousness later that evening. Dr. Alnajjar was shocked to see her responsive so soon and called Dr. Al-Zagoum to share the good news. After slowly weaning off the ECMO machine over the course of a week, she was transferred back to Henry Ford Macomb Hospital for inpatient rehabilitation.
Not all hospitals have ECMO machines. Vikram and Ajay Bedi felt moved to carry on their father, Raj's, legacy by purchasing the ECMO machine to help patients at Henry Ford Macomb Hospital.
"Our father always taught us the importance of giving back to our community," son Vikram Bedi said. "Henry Ford Macomb Hospital means a lot to our family, because of my father's coronary artery bypass using the da Vinci robot there years earlier."
In recognition of the donation, one of the hospital's new operating rooms has been named in honor of Raj and Swaraj Bedi.