Lydia Adams Patient Story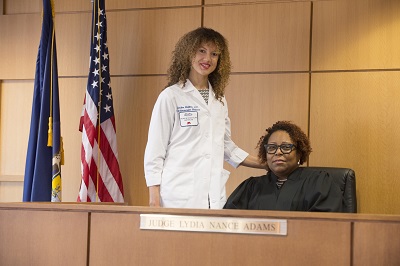 Judge Lydia Adams, born and raised in Detroit, came in for an appointment at the Women's Heart Center after watching a news segment about it. She saw the bod-pod and was drawn in by the effects of heart disease on women specifically in the Detroit community.
"My numbers for blood pressure were not looking good," she says. "I knew I had to do something."
Lydia has known for quite some time that she had to start taking care of herself more. Her husband passed away at the age of 42 from diabetes, but between grieving, taking care of her family, and work, it was hard to make sure her heath was under control at all times.
She found her appointment with Dr. Deirdre Mattina to be very eye opening from being pushed to her limits during the exercise stress test or seeing exactly how much body fat she had with the bod-pod. "You think you know all the ways to lose weight, she says. "But it's one thing to put it into practice."
Another thing she liked about the appointment was how the doctor, dietitian, and the exercise technicians where all in the same location as part of the same appointment. "To have them all there in one spot took the pressure off of making separate appointments." Maria, the nurse at the visit, even helped her relax as they planned follow up appointments.
Since the appointment, Lydia finds she has more energy. "I have learned to do one lifestyle change at a time," she says. "Instead of making excuses, you need to make sacrifices." She is looking to start a food journal in the near future.
Lydia is also part of the PREVENT Program, an exercise program at the Center of Athletic Medicine (CAM) that allows her to work towards a healthier lifestyle. She comes to CAM in the mornings to work out and monitor her blood pressure. Not only is this a great lifestyle change, but it has opened her eyes to the camaraderie of the Henry Ford community as she often sees her own doctors working out in the morning as well.